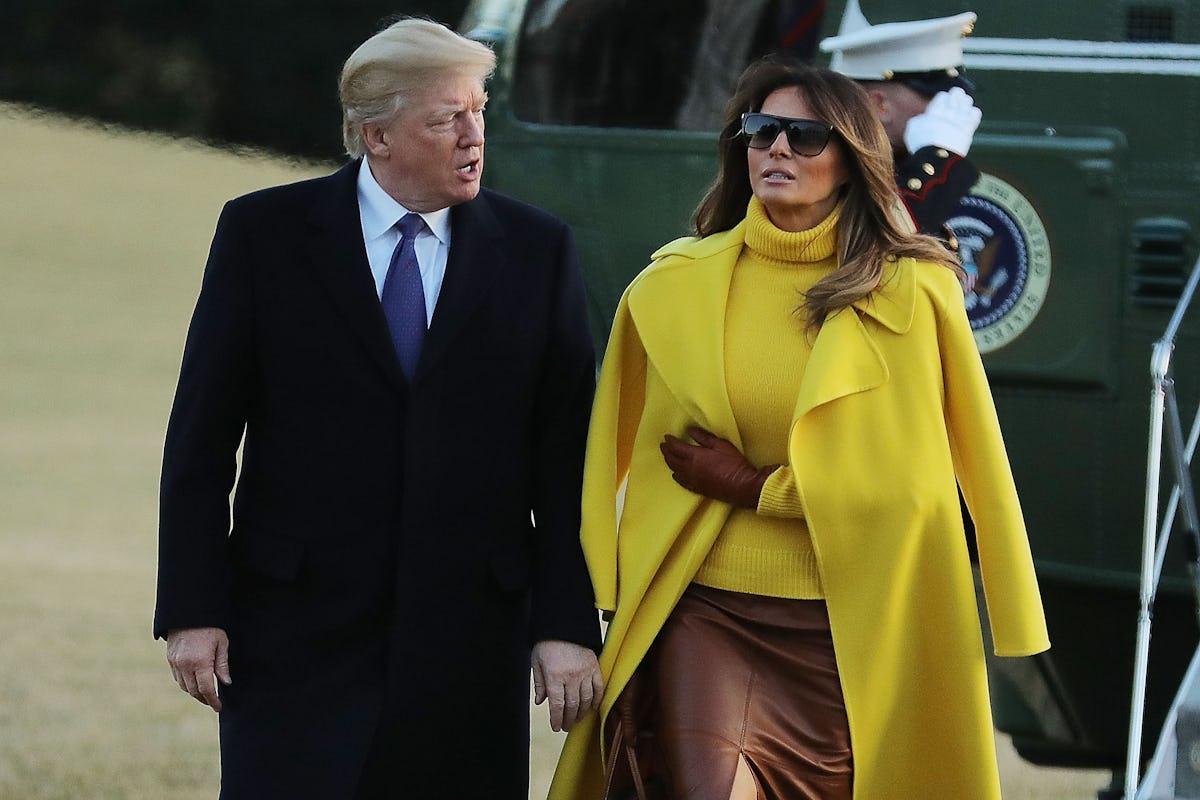 Donald Trump Lied About How Much He Paid For Melania's Engagement Ring & Just Why
Chip Somodevilla/Getty Images News/Getty Images
Back in 2005, Donald Trump proposed to Melania Trump, then Knauss, with a big, bright, shiny diamond. The king of the deal claimed he got a seven-figure discount, but it turns out that the Donald might have lied about that, so how much did Melania Trump's engagement ring cost? In 2005, Trump told The New York Times that Graff Diamonds gave him a whopping $1 million off the price of the ring, an emerald cut D-flawless 15 carat diamond, but according to Forbes, that's a lie.
In an email sent to Forbes on Jan. 26, Laurence Graff, Chairman of Graff Diamonds, wrote that Trump was "a pleasure to do business with," but added that he was not given any favors when purchasing the ring.
In the initial Interview with The New York Times, Trump claimed that Graff Diamonds was eager to chip in a million bucks for the ring for publicity's sake in his third walk down the aisle. Trump Boasted, "Only a fool would say, 'No thank you, I want to pay a million dollars more for a diamond.'" Trump added that Graff wasn't the only one who wanted to offer their services in exchange for publicity.
"Literally anything you can imagine from photos to flowers to food to jets to airports to diamonds," Trump told The New York Times. "And for every item, there's five people who want to do it. In all cases they don't want anything, but they want recognition."
However, according to Graff CFO Nicholas Paine, that was not the case. "We don't sell items for publicity values," he told Forbes.
According to Forbes, a third source, who remains unnamed but has direct knowledge of the whole transaction, said that Trump "paid for [the ring] in full, and he paid immediately." Forbes also noted that Trump paid in full for the ring he bought the first lady for their 10th wedding anniversary in 2014 Some might remember the picture that floated of her posing for her official White House photo sporting the a diamond ring that cost $3 million, according to Forbes.
But that still leaves us with the question of how much the ring actually cost. The initial 2005 New York Times article put the ring at $1.5 million. Both Graff and Paine declined to confirm the price.
Bustle reached out to the first lady's communication director, Stephanie Grisham, about the price of the ring. "I have nothing for you on the cost of a rung that was purchased over a decade ago," said Grisham. "Please let me know if you ever want to talk about all of the work FLOTUS is doing on behalf of children across the country."
This story is just weird. On the surface, it seems weird that a man who is constantly bragging and talking about how much money he has would be willing to admit that he didn't fork up tons of dough on an engagement ring. But then again, this was 2005, before we started looking at Trump through the constituent lens. Back then, it might have made sense. Although he was famous, and rich, and powerful, he wasn't POTUS. So maybe having high-end companies wanting to serve him and acknowledge how big and famous of a figure he is, was bragging. Checks out, right?
There is, however, another side to this, which is, why do we care? Or do we care at all? Trump was not president back then, and at this point we have much more important concerns in regards to Trump then how much he paid for a diamond.
Maybe it is just about a precedent. We already know that Trump is not the most honest of people, so maybe this just solidifies that Trump will even fudge the truth on the smallest of things. But more importantly, $750,000 and $1 million are the same to me... I can't afford either.