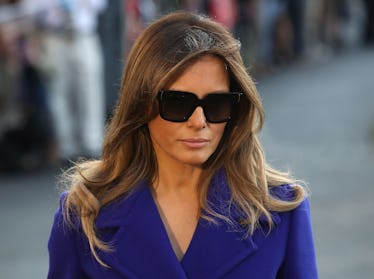 Melania Trump Went To The Holocaust Museum While Donald Was At Davos
Mark Wilson/Getty Images News/Getty Images
Melania Trump made headlines earlier this week for skipping out on joining her husband, President Donald Trump, at the World Economic Forum in Davos, Switzerland. But it looks like the first lady had more important places to be. On Thursday, Jan. 25, Melania Trump visited the Holocaust Museum in Washington D.C. and shared photos of her visit on social media.
Three photos shared to the official @FLOTUS Twitter account, as well as the first lady's Instagram, on Thursday showed Trump taking a private tour of the Holocaust Museum accompanied by the museum's director. There, she looked at walls covered in black and white photos and carvings of Hebrew script and lit a candle at the museum's prayer wall. The caption on her tweet read,
Thank you @HolocaustMuseum for a powerful & moving tour that honors the millions of innocent lives lost, and educates us on the tragedies and effects of the holocaust. #WeRemember #AskWhy
The first lady also participated in a moment of silence at the eternal flame in the museum's Hall of Remembrance. Trump's visit comes two days before International Holocaust Remembrance Day, which is recognized on Jan. 27. In a White House statement, Trump said that her visit was in commemoration of the day and to pay respect to the millions of people murdered in the Holocaust.
In the statement, Trump also shared her thoughts and prayers with the victims. She said,
My thoughts and prayers are with the people whose lives and families were broken by the horrors of the Holocaust. Yet it is also through our shared humanity that we come together now in commemoration, strength, and love. My heart is with you, and we remember.
Trump's visit comes while her husband is visiting Switzerland for a conference of economic elites.
Also on Thursday morning, President Trump arrived at the World Economic Forum in Davos, Switzerland, a conference of bankers, government officials, investors, and chief executives. Originally, the first lady was scheduled to accompany her husband — but Trump canceled at the last minute, announcing on Jan. 22 (coincidentally, the couple's 13th wedding anniversary) that she would remain behind. A statement from Trump's communications director Stephanie Grisham said that the change in plans was due to "scheduling and logistical issues."
Some people, however, were skeptical. Trump's cancellation came after reports that President Donald Trump had an affair with an adult film actress, Stormy Daniels, shortly after Trump gave birth to the couple's only child together. On Jan. 12, The Wall Street Journal reported that the Donald Trump campaign had paid Daniels $130,000 to keep her quiet about an alleged 2006 affair with the now-president. Trump's lawyer, the White House, and Daniels have all denied the allegations. But of course, people wondered if Melania Trump deciding not to go away with her husband for a few days had something to do with these allegations.
No matter why she decided not to get herself trapped in a small Swiss town with her husband for a few days, it seems Trump is keeping herself busy.
After her visit to the Holocaust Museum, Trump reportedly jetted on down to West Palm Beach, Florida, apparently heading to the Mar-a-Lago resort. The West Palm Beach Post reported that a smaller version of Air Force One normally used by the first lady had landed around 1:30 p.m. ET, and CNN noted that a motorcade was seen leaving the airport. A law enforcement source confirmed to CNN that Trump was on the plane, although it's unclear if she was accompanied by her young son, Barron.
No matter why Trump decided not to go to Switzerland, at least she's using the time well. Educating yourself is always a positive thing.