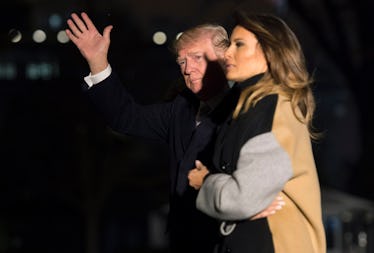 Melania Trump Canceled A Trip With Donald On Their Anniversary & It's So Suspicious
Pool/Getty Images News/Getty Images
First Lady Melania Trump has made a change of plans. Trump had previously been scheduled to travel to Davos, Switzerland, where she would join President Donald Trump at the World Economic Forum. Now, however, the first lady won't be traveling with her husband to Europe, leaving a lack of clarity behind the question of why Melania Trump isn't going to Davos.
Trump's communications director Stephanie Grisham issued a statement to CNN, telling the network that the first lady was cancelling the trip because of "scheduling and logistical issues." The Washington Examiner reported the same, but said Grisham did not clarify what Trump would be doing instead of attending the trip to Davos.
The Timing Of Melania's Announcement
The abrupt cancellation of the trip, paired with the lack of detail provided by Grisham, is difficult to view without the context of recent reporting about Trump's marriage.
As CNN noted, the first lady has not made a public statement since Friday, Jan. 12. On that day, The Wall Street Journal reported that President Trump's lawyer, Michael Cohen, allegedly made a payment of $130,000 to former adult film star Stormy Daniels (born Stephanie Clifford) in exchange for not publicly discussing an alleged 2006 affair between her and Donald Trump. A White House official told The Journal that allegations of an affair were "old, recycled reports, which were published and strongly denied prior to the election." Cohen told the paper he "vehemently denies" the claims. Daniels said in a statement that rumors of an affair are "absolutely false" and that allegations of "hush money from Donald Trump are completely false."
Meanwhile, the announcement that First Lady Trump would not be traveling to Switzerland was first reported on Monday, Jan. 22, which marked the president and first lady's 13th wedding anniversary.
The timing of the announcement has now led to the inevitable: people speculating whether the cancellation of Melania Trump's trip has anything to do with another widely reported story in which President Trump is alleged to have been unfaithful to her.
Reports about an alleged relationship between Daniels and Donald Trump weren't just published by one news source, either.
The New York Times also added legitimacy to the Wall Street Journal's story, reporting that Daniels had been in talks with Slate and ABC about sharing details of the alleged affair. The following week, The Journal published a follow-up story, reporting that the paper had found Cohen allegedly used a Delaware company to send the $130,000 to a lawyer of Daniels' in October 2016, before the presidential election.
The wave of reports about President Trump's past as a private citizen, specifically in regards to the alleged affair with Daniels, also included the retroactive publishing of an interview between Daniels and In Touch from 2011. The New York Post reported that the magazine hadn't previously published the interview because of legal threats from Trump.
On Friday, Jan. 19, the magazine published the entire transcript of the supposed interview. In it, Daniels is quoted as admitting to having a sexual relationship with Trump months after Melania Trump gave birth to son, Barron.
"At the time, I didn't think that much about it. But now that I have a baby that's the same age that his was at the time, I'm like, "Wow, what a d*ck," Daniels is quoted as saying.
The transcript also attributes another notable line to Daniels, in which she claims Donald Trump didn't speak much about his wife.
"I mentioned her. I was like, 'Yeah, what about your wife?'" Daniels is quoting as asking on the night she first had dinner with Trump. "He goes, 'Oh, don't worry about her.' Quickly, quickly changed the subject."
President Trump has not personally responded to reports about an alleged relationship between him and Daniels, but they're certainly affecting people's views of Melania abruptly cancelling her travel plans.