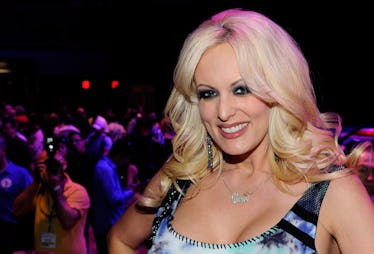 Stormy Daniels Had Some Not So Nice Words For Trump About Allegedly Cheating On Melania
Ethan Miller/Getty Images Entertainment/Getty Images
A day after The Wall Street Journal reported that President Donald Trump's lawyer allegedly paid hush money to porn star Stormy Daniels in 2016, In Touch released an interview in which Daniels is quoted as detailing a sexual relationship with Trump. The publication released the transcript to the interview it says took place in 2011, with Daniels on the record. The transcript features many notables quotes, including one in which Stormy Daniels reportedly says Melania Trump should be mad about one thing above all else. The alleged affair took place while Melania and Donald were married and a few months after the birth of their son, Barron. Daniels did not respond to a request for comment by In Touch.
"Like I said, if I was his wife and I found out that my husband stuck his d*ck in a hundred girls, I would be less mad about that than the fact that he went to dinner and had like this ongoing relationship," Daniels, whose real name is Stephanie Clifford, is quoted as saying by In Touch.
In a statement given last week, the Trump lawyer at the center of the story, Michael Cohen, denied the multiple reports about an affair between Daniels and Trump, saying, "These rumors have circulated time and again since 2011. President Trump once again vehemently denies any such occurrence as has Ms. Daniels." In her own statement last week, Daniels said, "Rumors that I have received hush money from Donald Trump are completely false." A White House official told The Wall Street Journal that rumors of an affair were "old, recycled reports, which were published and strongly denied prior to the election."
Later in the transcript, Daniels is quoted as claiming that Donald Trump never mentioned any other women he was having relations with, but that she and the now-president had maintained a relationship, at least over conversations, for "well over a year."
In Touch released the full transcript of its interview online on Friday morning, Jan. 19. The night before, The Wall Street Journal reported that longtime Trump lawyer Cohen used a private Delaware company — dubbed Essential Consultants LLC — to pay Daniels $130,000 shortly before the 2016 presidential election, in exchange for not publicly discussing the alleged affair with Trump. In his statement last week about the alleged hush money and affair, Cohen said, "You have attempted to perpetuate this false narrative for over a year; a narrative that has been consistently denied by all parties since at least 2011."
The Journal's Thursday night report was a follow-up to an initial story the paper reported on Friday, Jan. 12. That particular story detailed the alleged existence of a non-disclosure agreement and reported that Daniels told friends privately that she had a relationship with Trump after meeting him in 2006. The New York Times shared similar details, reporting that Daniels told Slate editor-in-chief Jacob Weisberg that she and Trump had an affair after meeting in 2006.
Stormy Daniels had more to say about Melania Trump.
The transcript released by In Touch features Daniels drawing out a timeline that aligns with what others outlets have reported about her meeting Donald Trump.
The transcript also features multiple lines in which Daniels is quoted as mentioning First Lady Melania Trump. "I mentioned her. I was like, 'Yeah, what about your wife?'" Daniels is quoting as asking on the night she first had dinner with Trump. "He goes, 'Oh, don't worry about her.' Quickly, quickly changed the subject."
Daniels is also quoted as saying that she'd never seen Melania Trump in person, and that Donald Trump was always alone when Daniels met with him.
"I've never seen her. I've never seen her in person, ever," Daniels is quoted as saying. "Then the next time I saw him was the end of July and he called me and asked if I could come meet him at the Beverly Hills Hotel. And I went. My boyfriend drove me."
Before the transcript ends, Daniels is also quoted as saying that having a child of her own changed her views on having an affair with a married man.
"At the time, I didn't think that much about it. But now that I have a baby that's the same age that his was at the time, I'm like, "Wow, what a d*ck," Daniels is quoted as saying.
At the time that Daniels is alleged to have met Trump, Barron Trump was just a few months old.