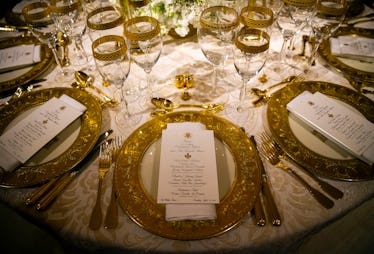 This Detail From Melania Trump's First State Dinner Pays Subtle Tribute To Michelle Obama
Al Drago/Getty Images News/Getty Images
Tuesday, April 24 is a big day for first lady Melania Trump. For the first time, she'll host a state dinner at the White House, and it's the world's chance to get a glimpse of what kind of party she can throw. Everything from the flatware to the flowers has the first lady's fingerprints on it. So it's worth noting Melania Trump's first state dinner menu, which includes a nod to her predecessor Michelle Obama.
The guests of honor for Tuesday's meal are French President Emmanuel Macron and his wife Brigitte, and the dinner speaks to those culinary customs. The Washington Post reports that the meal will consist of three courses — one less than is traditional — and includes ingredients from the garden planted by Michelle Obama.
The menu is a melding of cultural tastes. The first course pairs goat cheese and tomato jam with lettuce and something literally called "buttermilk biscuit crumbles," which I can only assume is as deconstructed-soul-food-esque as it sounds. For the main course, a rack of lamb is joined by a cipollini soubise and a rice jambalaya that incorporates celery, bell peppers, herbs, and onions from the South Lawn garden, according to TIME. And finishing it all off are a nectarine tart and crème fraîche ice cream for dessert.
It's a far cry from the fare President Trump normally eats, which is to say, mostly McDonald's due to his fear of food poisoning. So it may come as a surprise to some to learn that there will be fresh produce picked from the South Lawn in the state dinner.
Obama planted the garden in 2009 and it became one of her legacies in her tenure at the White House. Healthy eating and childhood nutrition were the cornerstones of her Let's Move! initiative, and the garden was in many ways living proof that she practiced what she preached. (She even reinforced the South Lawn plots with stone to ensure that incoming presidents wouldn't remove them.) So things got tense when Donald Trump began to dismantle some of her hard work to improve the nation's school lunch program.
"I take great pride in knowing that this little garden will live on as a symbol of the hopes and dreams we all hold of growing a healthier nation for our children," Obama said in an October 2016 speech dedicating the garden, per Politico.
The current first lady, for her part, appears to have made it her mission to host a successful state dinner. It's understandable: The first lady historically is responsible for running the show. The televised event is seen as a display of her style and aesthetics.
No pressure, but the dinner hosted by the Macrons when the Trumps visited France in 2017 was hard to beat. So Melania has some big shoes to fill.
The Trumps are, in classic style, breaking with tradition set by their predecessors this year. Apart from the coursing, the guest list is substantially different. Whereas the Obamas reportedly invited over 300 people to their first state dinner in 2009, taking place in an elegant outdoor setup, Politico reports that this year's affair is open to just 150 and will occupy the State Dining Room. And though past presidents historically invited the press and opposing-party members of Congress, Trump has notably left them both off the list.
Hopefully the Trumps and Macrons can engage in pleasant conversation over their meal, that this time, won't include any awkward mentions of Brigitte's figure. (In case you forgot: Trump, upon meeting the French president and his wife for the first time, said that she was in "such good shape," and gave her one of his signature handshakes.)
They might not be harvesting any fresh veggies, but the Trumps will get their hands a bit dirty in the South Lawn when they plant a tree together with the Macrons during their visit. For the sake of avoiding backlash, here's hoping Mrs. Trump comes dressed in appropriate footwear for the occasion.