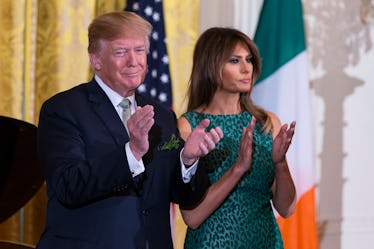 Melania Apparently Once Dumped Trump After Catching Him With A Model Ex-Girlfriend
Pool/Getty Images News/Getty Images
New revelations about President Donald Trump and his wife Melania give some insight on their relationship. In his new book, The Trump White House: Changing The Rules Of The Game, former Washington Post reporter Ronald Kessler gives a detailed account of a the president's personal life. Among the juicy details: Melania reportedly dumped Trump once while they were dating, after seeing his ex-girlfriend leaving his apartment building.
The couple married in 2005 but started dating in September 1998 after meeting at a club in New York City. The breakup reportedly happened a few months after their initial meeting, when Mrs. Trump was still Ms. Knauss but had been living together for a while at Trump's Palm Beach property.
"Melania was going to go with him to Mar-a-Lago on his plane and she went up to the apartment at Trump Towers and out walked Kara Young, the model, who had been dating Donald previously for almost two years," Kessler told Us Weekly on April 5. "And Melania broke up with him on the spot." Young, like Melania, was a model at the time.
Melania was pretty serious about the breakup, Kessler said in his account to Us Weekly. "She didn't care about the billions of dollars or the beautiful Mar-a-Lago or the beautiful apartment," he said. "She just broke up with him and she ordered her clothes to be sent back from Mar-a-Lago."
But the split didn't last long, per Kessler's telling. "Within a week, Donald woo-ed her back," he continued, "and sure enough she sent her clothes back to Mar-a-Lago, but that gives you a little insight into her character and of course Donald was impressed by that as well."
It was reportedly about a month after they first met at the Kit Kat Club in September that Trump first invited Knauss to join him at his Florida resort for a weekend. Per The New York Post, that weekend turned into a full-on living situation, where she lived for the next couple of years before Trump asked her to move to New York.
Bear in mind that during all of this, Trump's second divorce with Marla Maples was still yet to be finalized.
And the 1998 breakup wouldn't be the only one for the Knauss-Trump relationship books. In January 2000, when Trump indicated a desire to run for U.S. president, the pair split up. His campaign, at the time, she said, was a factor. "We were apart for a few months, not long," she told DuJour magazine of the break. "We got back together. He was always thinking about it. But he loved what he did, he had his business."
The news of Melania's dumping of her then-boyfriend Trump comes after allegations by two separate women that they had affairs with him in 2006. Adult film star Stormy Daniels, AKA Stephanie Clifford, has taken him to court to break a non-disclosure agreement for which she was paid $130,000 by Trump's personal attorney Michael Cohen to stay silent about the alleged affair. Meanwhile, former Playboy model Karen McDougal is likewise seeking to break her contract regarding her ability to speak freely about a relationship she said she had with him at the same time. Trump and the White House have denied that either affair happened.
And the first lady dumping the president apparently got some people's wheels turning. Conservative political commentator S.E. Cupp called on Melania to ditch Trump following the allegations in March. And per a Marist poll in February, more than a third of Americans surveyed thought the first lady should leave her husband.
Based on the timeline of the women's accounts of their alleged affairs, Melania Trump would've been pregnant with their son Barron at the time.
But Kessler doubts that the rumors of these affairs will do anything to shake up their relationship. "That marriage is going to last," he told Inside Edition.