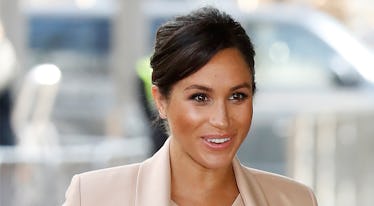 Meghan Markle's Summery Pink Brandon Maxwell Dress Is The Only Thing Saving Me From Frostbite
Chris Jackson/Getty Images Entertainment/Getty Images
And now, a list of pink things that make me happy: pretty pink roses, cozy pink blankets, cheery pink blush, and Meghan Markle's summery pink Brandon Maxwell dress. That's literally it, people! And TBH, that last one is my favorite in the lineup, as it's giving me warm-weather vibes despite the actual frostbite-inducing temperature outside. Markle stepped out in one of her best looks to date, and for a brief moment, it was almost like I didn't need to layer on ten sweaters at once. I've said it before, and I'll say it again, Markle's sense of style while pregnant just keeps getting better.
TBH, Markle always gives me warm-weather vibes thanks to her consistently glowy, well-bronzed complexion. She has not once in her life ever looked unblended, pale or dry, of that I'm sure, and she honestly always appears as if she's just returned from a fabulous tropical vacay. In my humble opinion, the Markle Glow is as enviable as the iconic Markle Messy Bun, and when you add the extra oomph of a pregnancy glow, you've got dewy skin goals to the max. Still, her look on a visit to London's National Theatre was particularly summery, as she complimented her glowing complexion with a head-to-toe pale pink look.
Cold weather? We don't know her:
While the Queen might not approve of this look (She hates when the ladies go sans-tights!), I personally could not love it more. Talk about a breath of fresh air! What I wouldn't give to trade in my heavy winter parka for something as chic as Markle's Brandon Maxwell dress, which, according to Fashionista, is most likely an altered version of a dress from the brand's Spring 2019 line. She paired the blush moment with the brand's matching Shawl Collar Blazer, which is no longer available.
Her Carolina Herrera clutch makes me wonder if she's giving a subtle baby name hint. Maybe something beginning with the letter 'C'? Maybe monochromatic pink to symbolize a girl? Or am I just overthinking it:
Either way, the whole pink look seriously emphasizes her glow, no?
I'm pretty consistently a fan of Markle's makeup, and this look is definitely in my top three of all-time. While she went for her typical bronzed cheeks, neat but full brows, and smoky but daytime-friendly eyeshadow, she opted for a glossy lip as an added pop of pink. I'm not sure exactly what she's wearing, but I imagine a swipe of the Marc Jacobs Beauty Enamored Hydrating Lip Gloss Slick in "Sweet Escape" ($28, marcjacobsbeauty.com) would give a pretty similar look, as the sheered-out formula looks fresh and juicy on the lips without coming off as too intensely glossy or shiny.
I'd also like to take a moment and give credit where credit is due, because walking around in these Aquazurra heels while pregnant is no easy feat:
I, too, would be smiling from ear to ear after finally getting the chance to sit down:
Is it too early to break out my springtime wardrobe? Markle has really inspired me, and I hope she keeps this blush hue in heavy rotation. It really suits her, as does her double dose of natural-and-pregnancy-glow. Thank you, Meghan, for serving us a look with enough summery warmth to almost make me forget how cold it is outside. Almost.