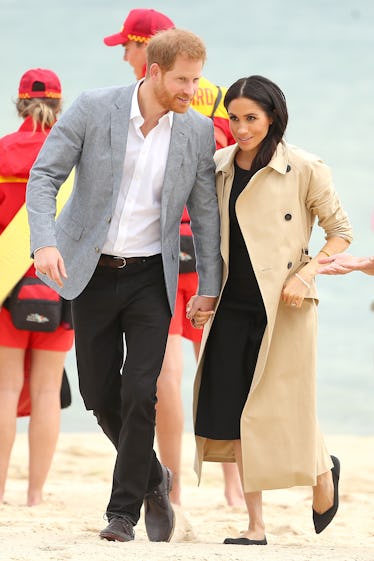 Meghan Markle Reportedly Gave An Update About The Name Of Her & Harry's Future Baby
Scott Barbour/Getty Images Entertainment/Getty Images
In case you somehow missed the exciting news, it's time to crack open those ginger beers and celebrate, because Prince Harry and Meghan Markle are having a baby! On Oct. 15, Kensington Palace shared the news that the couple is expecting their first child sometime in spring 2019, which means all of us royal fans/stalkers are officially on baby bump watch. Also, if you're anything like me, you're now completely obsessed with trying to figure out what the Duke and Duchess of Sussex are planning to call their firstborn. It seems like the name Diana would be a pretty obvious choice if they have a daughter. But judging by Meghan Markle's baby name update, it looks like nothing is set in stone.
The Duke and Duchess of Sussex are currently down under for a 16-day tour, and while there, the two have spent lots of time meeting children and chatting about their own little bun in the oven. On Oct. 18, Meghan Markle and Prince Harry were questioned about their ideas re: baby names by a bunch of school kids who joined them on a short tram ride. And what Markle had to say was pretty interesting, to say the least.
According to CNN, when a 12-year-old boy name Charlie Wolf asked the couple what they plan to name their baby, Markle reportedly replied: "We've been given a long list of names from everyone, we're going to sit down and have a look at them."
Elite Daily reached out to the Palace for confirmation on this report, but did not hear back by the time of publication.
Twenty bucks says that their list is not as long as the one Taylor Swift made of her ex-lovers.
For the record, I have no idea what's actually on this list, but I'm still pulling for Diana, in honor of Prince Harry's beloved mom, Princess Diana. Plus, if it's a boy, they could go with David, which actually means beloved, and which also happens to be Prince Harry's fourth name. His full name: Henry Charles Albert David. Or H-CAD for short. Only you probably shouldn't call him that because I just made it up.
Meanwhile, if the baby does turn out to be a girl, we already know she'll have a pretty baller gift waiting for her. Entertainment Tonight recently uncovered a 2015 interview that Markle gave to Hello! Magazine, and in it, the former actress revealed that she has a special timepiece all ready to hand down to her future child.
"I've always coveted the Cartier French Tank watch," she told the publication. "When I found out Suits had been picked up for our third season I totally splurged and bought the two-tone version. I had it engraved on the back, 'To M.M. From M.M.' and I plan to give it to my daughter one day."
OK, so if the Duchess of Sussex sticks to this plan, then does that mean the baby's first name will start with an M? If so, I'm kind of feeling Mary for a girl and Michael for a boy.
Or maybe the double Ms just stand for something totally cute and basic like "mini me."
Then again, maybe not.
Let the royal speculation begin!