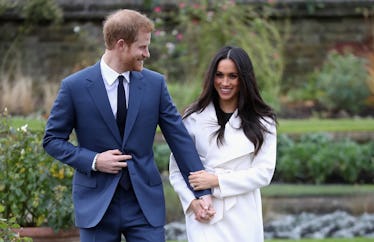 Meghan Markle Was In A Sorority & This College Photo Proves She Hasn't Changed A Bit
Chris Jackson/Getty Images Entertainment/Getty Images
Meghan Markle might be the future Duchess of Sussex, but did you know she was also a sorority girl? Well, now you do! Meghan Markle's sorority photo just graced its way into our presence, and it's proof that homegirl never has and never will age. The photo was tweeted by the Chicago Sun-Times and apparently was one of her composite photos from when she was a student at Northwestern University. She studied theater and communications during her time there, and according to people who ~knew her when~ (and Markle herself), she was a "theater nerd." Markle was a member of Kappa Kappa Gamma sorority, and the photo from the Chicago Sun-Times was reportedly taken during the 2000-2001 academic year.
Markle, 36, has spent her time since college as a UN advocate for women, as well as starring in the lawyer drama Suits for seven seasons. Prince Harry, 33, works with various philanthropies as well. Their shared passion for giving back to their communities is apparently one of the big things they love about each other. Markle revealed earlier this week that she will be retiring from her acting career in order to focus on her royal duties, which will undoubtedly include diving headfirst into involvement with many philanthropies. Sorry Suits fans, but that means Markle's character, Rachel Zane, will no longer be a part of the show's story.
If Markle's sorority could go back in time, do you think they'd add, "Future Duchess of Sussex" next to her name?
A photo of 15-year-old Meghan Markle at Buckingham Palace was featured on the front page of the Daily Mail in the U.K. this week, and it gives you goosebumps when you think about the fact that 21 years later, she would be marrying into the family that resides in that palace.
This week has just been the week of throwback pics of Meghan Markle! In an interview with Sky News following the engagement announcement and a quick photo shoot at Kensington Palace, Markle said her marriage to Harry marks a "new chapter" in her life rather than her giving anything up. She said,
I just see it as a change. It's a new chapter, right? And also, keep in mind, I've been working on [Suits] for seven years... I've ticked this box, and I feel very proud of the work I've done there, and now it's time to work with [Harry] as a team.
Clarence House, Prince Charles' official residence, released a statement on Monday, Nov. 27 announcing Prince Harry and Meghan Markle's engagement.
The statement read,
His Royal Highness The Prince of Wales is delighted to announce the engagement of Prince Harry to Ms. Meghan Markle. The wedding will take place in Spring 2018. Further details about the wedding day will be announced in due course. His Royal Highness and Ms. Markle became engaged in London earlier this month. Prince Harry has informed Her Majesty The Queen and other close members of his family. Prince Harry has also sought and received the blessing of Ms. Markle's parents. The couple will live in Nottingham Cottage at Kensington Palace.
Nottingham Cottage is a two-bedroom house on the grounds of Kensington Palace where Prince William and Kate Middleton live with their children, Prince George and Princess Charlotte. Harry moved into the cottage in 2013 and it's apparently where he proposed to Markle!
In an interview with BBC News following the engagement announcement, Harry and Meghan detailed exactly how the proposal went down.
The video went a little something like this:
Prince Harry: Roasting a chicken... trying to roast a chicken.
Meghan Markle: Trying to roast a chicken and it just — just an amazing surprise. It was so sweet and natural and very romantic. He got on one knee.
Prince Harry: Of course.
Interview: Was it an instant yes from you? [Meghan]
Meghan Markle: Yes, as a matter of fact, I barely let you [Harry] finish proposing. I said, 'Can I say yes now?'
Prince Harry: She didn't even let me finish. She said 'Can I say yes? Can I say yes?', and then there were hugs and I had the ring in my finger and I was like, 'Can I give you the ring?' She goes, 'Oh yes, the ring.'
The last time I roasted a chicken, I burned it, so there's that. According to a statement released by Kensington Palace on Nov. 28, Prince Harry and Meghan Markle will get married at St. George's Chapel at Windsor Castle in May 2018. Let the royal wedding bells ring!