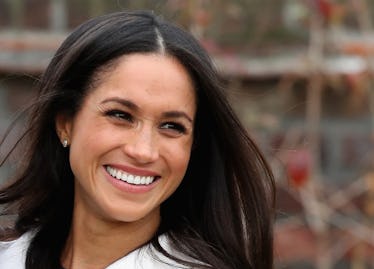 This Photo Of 15-Year-Old Meghan Markle At Buckingham Palace Will Give You Goosebumps
Chris Jackson/Getty Images Entertainment/Getty Images
Prince Harry and Meghan Markle have a lot of planning to do before their wedding in May 2018. The wedding will mark the second time a member of the royal family has married an American, and the first time they've married an American with permission from the queen. I don't know what ~royal~ wedding receptions are like, but lots of American receptions showcase old photos of the couple from their childhoods as cute little throwbacks. If Harry and Meghan are planning on doing that, this photo of Meghan Markle at Buckingham Palace would probably be a good choice to include.
The photo appeared on the front page of the Daily Mail in the UK on Wednesday, Nov. 29, and shows a young Markle posing in front of Buckingham Palace with a friend, clearly having zero clue she was standing outside of her future grandmother-in-law's crib. We all remember imagining what it would be like to live there and be part of the royal family (talking about which prince was your favorite was just as popular as choosing your favorite member of *NYSNC back in my #youth). Do you think Markle did the same?! Do you think, when she took this pic, she was thinking, "Prince Harry is my favorite prince. I'm going to marry him one day"?! That would be crazy. I guess she was always ~destined~ to end up at Buckingham.
Here's 15-year-old Meghan Markle posing in front of the house her future children will spend Christmases in:
This is wild. Although the Daily Mail front page says she's about to become a princess, that's not entirely accurate. Markle will reportedly take on the title of Her Royal Highness the Duchess of Sussex once she marries Prince Harry. If this is her title, she will be the first Duchess of Sussex ever. According to Us Weekly, there's also a unique connection Prince Harry shares with the last Duke of Sussex (he will likely take on that title if Markle is Duchess of Sussex, just like Prince William and Kate Middleton are the Duke and Duchess of Cambridge). The last Duke of Sussex, Us Weekly reports, got married twice and selected his wives not from nobility, but for love — just like princes Harry and William. The former Duke's marriages weren't approved by King George III, which technically made them illegal, but no worries, Prince Harry and Meghan Markle's engagement is approved by the queen.
Prince Charles announced his son's engagement on Monday, Nov. 27 in a statement from Clarence House, his official residence in London.
The statement read,
His Royal Highness The Prince of Wales is delighted to announce the engagement of Prince Harry to Ms. Meghan Markle. The wedding will take place in Spring 2018. Further details about the wedding day will be announced in due course. His Royal Highness and Ms. Markle became engaged in London earlier this month. Prince Harry has informed Her Majesty The Queen and other close members of his family. Prince Harry has also sought and received the blessing of Ms. Markle's parents. The couple will live in Nottingham Cottage at Kensington Palace.
Kensington Palace (Prince William and Kate Middleton's residence) announced on Nov. 28 that the wedding would take place in May 2018 at St. George's Chapel, Windsor Castle.
The statement read,
The marriage of His Royal Highness Prince Henry of Wales and Ms. Meghan Markle will take place at St. George's Chapel, Windsor Castle in May, 2018. Her Majesty The Queen has granted permission for the wedding to take place at the Chapel. The Royal Family will pay for the wedding. Further details about the wedding will be announced in due course.
Would the royal family like to pay off my student loans? Hahaha, totally kidding, guys. I definitely don't mean that. That's not a serious question. Not serious at all. Anyways, Prince Charles and his wife, Camilla, actually got married in a civil ceremony at Windsor Guildhall in 2005, so it will be nice for them to return to Windsor Castle for Prince Harry and Markle's wedding. Prince William and Kate Middleton got married in Westminster Abbey in 2011, as if we could ever forget about that. Who knew that 21 years after Meghan Markle took that photo in front of Buckingham Palace, she'd be engaged to one of its inhabitants? Life is crazy.