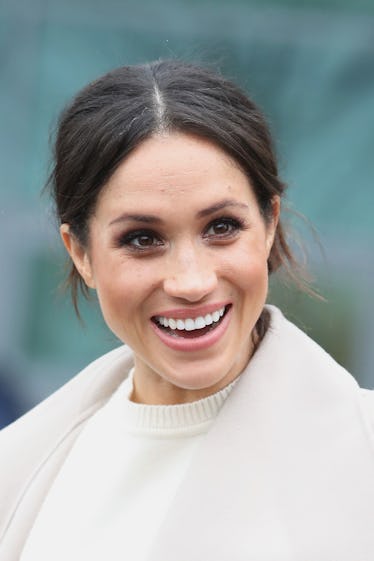 Meghan Markle's Favorite Lipstick Is An Ode To This Spice Girl, So You Can't NOT Buy It
Chris Jackson/Getty Images Entertainment/Getty Images
There is one woman in particular who the entire world is seemingly looking to for style and beauty inspiration alike, and now, one of her go-to products has been revealed, meaning it's guaranteed to sell out in record speed. Meghan Markle's favorite lipstick has been leaked, so if you've always wondered how to get her soon-to-be royal pout, now is your chance.
Markle is known for her incredibly chic, minimalist style and effortless beauty looks. She set the internet abuzz by wearing messy buns (tidy messy buns, technically) out to heavily publicized events with her fiancee, Prince Harry, and she tends to stick to a less-is-more beauty look if she's not attending a formal event. A bit of eye makeup and swipe of understated lipstick seems to be her preferred routine for everyday, complete with her gorgeous white smile and dewy skin. Yeah, the woman always looks incredible.
Taking her typical look into account, it makes sense that her favorite lipstick would be a neutral rosy-brown. It's Charlotte Tilbury's Matte Revolution Lipstick in Very Victoria, and it was named after Victoria Beckham herself. As Marie Claire point out, it's "fitting, considering the fact that The Spice Girls are reportedly performing at Markle's wedding." For $34 it's not the cheapest lipstick on the shelf but let's be real, can you really put a price on feeling that much closer to royalty? I think not.
Charlotte Tilbury's Matte Revolution Lipstick in Very Victoria, $34, Charlotte Tilbury
Tilbury also has another shade in her collection inspired by Markle's future sister-in-law named the the K.I.S.S.I.N.G. Lipstick in The Duchess. It safe to assume that, once Markle and Prince Harry get married, another shade could be named in honor of Markle.
K.I.S.S.I.N.G. Lipstick in The Duchess, $34, Charlotte Tilbury
As revealed in an interview with Refinery 29 by Markle's former hair and makeup artist, Lydia F. Sellers, Markle's relaxed, chilled out look has been a staple for years. "She's done such a good job of maintaining her sense of self amongst the spotlight. Even now, her look has stayed the same. She'll throw her hair back in a low bun and it actually looks like she's done it herself, and it's beautiful and chic because she's so confident. That's the great thing about Meghan — she's so confident with herself and her look, and she sticks with that."
Makeup-wise, Markle also prefers to keep it natural. "Meghan is very in-the-know — she had her blog for a while, so she just gets beauty," Sellers told Refinery 29. "But her approach is very effortless. She just wants to look like a better version of herself. That's something she believes firmly in." To achieve that, it meant staying away from super heavy makeup products and letting her natural features show through. "Every time I'd do her makeup, she'd say, 'Can we just make sure my freckles are peeking through? I don't want a ton of foundation,'" Sellers told Refinery 29. "It was more about the amount of product that went on her skin and keeping it really fresh and dewy, rather than caking it on. So I'd use the Armani Luminous Silk Foundation with a Beautyblender because it's really easy to sheer out."
Armani Luminous Silk Foundation, $64, Sephora
Clearly, less is more when it comes to beauty with Markle, though she has ben known to rock a bold lip or dark eye every now and again. It does have me wondering what her beauty look for her wedding will be like — will she stick with her preferred blowout or opt for a much more royal chignon? Will she follow in Kate Middleton's footsteps and opt for black eyeliner and rosy cheeks and lips? Or will she wear her favorite Tilsbury lipstick and stick with the natural look she's perfected? Only time will tell!