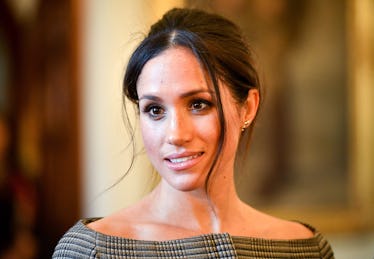 Meghan Markle's Dream Job Before Meeting Prince Harry Was So Sweet – Literally
WPA Pool/Getty Images Entertainment/Getty Images
It's so weird – Meghan Markle and I are practically the same person. We're both American. We're both engaged. She's an actor and I know what actors are. And, we both secretly wish we could make a living selling candy. Meghan Markle's dream job before meeting Prince Harry was to open a candy shop, and if you didn't love her before, I bet you do now. Could this woman be any sweeter? Probably, but IDK how!
As we all know, Markle was performing as a series regular on the USA Network show Suits when she met Prince Harry. She's also heavily involved in humanitarian work, she used to work in fashion, and at one point, she even maintained a successful lifestyle blog called The Tig. Now, TMZ has obtained documents showing Markle and a friend once trademarked a company called "Lali" back in 2012. According to the report, they were going to sell lollipops and drops. (Also, when was the last time you ate a drop? I love it.)
Two years after trademarking "Lali," Markle and her friend abandoned the idea. Now, here we are — Meghan's going to be royalty, and I'm eating popcorn for dinner. Life, man.
Ya know, some things like lollipop stores just aren't meant to be. But, sometimes, becoming British royalty is meant to be.
Markle seems to have seamlessly transitioned into the royal lifestyle. Every picture I see of this woman is sheer perfection. She's poised, she's quirky, she's approachable, and she's really, really put together. (Have you seen her coats?) For Markle, it was a no-brainer to leave her acting career behind to embark on this new journey with Prince Harry.
Part of her new role will include doubling down on the humanitarian work she does now. According to Newsweek, Markle is currently involved with World Vision Canada, One Young World, and the United Nations, and is particularly invested in women's rights. Though Markle took down The Tig for obvious reasons after her engagement, she once wrote,
I've never wanted to be a lady who lunches — I've always wanted to be a woman who works. And this type of work is what feeds my soul, and fuels my purpose.
As a royal family member, I suspect she will be doing a lot of lunches and work.
As for her work on Suits, Markle says she's made peace with leaving her acting career behind, especially because this new life chapter gives her room to focus on her other passions. During her first interview as Harry's fiancée, she explained,
I think what's been really exciting ― as we talk about the transition of this out of my career but into the role ― is that, as you said, the causes that have been very important to me, I can focus even more energy on ... You realize once you have access or a voice that people are willing to listen to, with that comes a lot of responsibility, which I take seriously.
While I'm sure there's a lot of hard work to be done, I also suspect a lot of Markle's attention will be on her royal wedding. She and Harry are set to wed May 19, 2018, at St. George's Chapel, Windsor Castle. The date is a very pressing three and a half months away.
Still, if Markle is sweating any of the details, we sure don't know it. I would say this woman is as chill as Queen Elizabeth tweeting on her birthday, but I don't want to start any family drama.
Sad about your lollipops, Meghan, but excited about what's to come!
Check out the entire Gen Why series and other videos on Facebook and the Bustle app across Apple TV, Roku, and Amazon Fire TV.