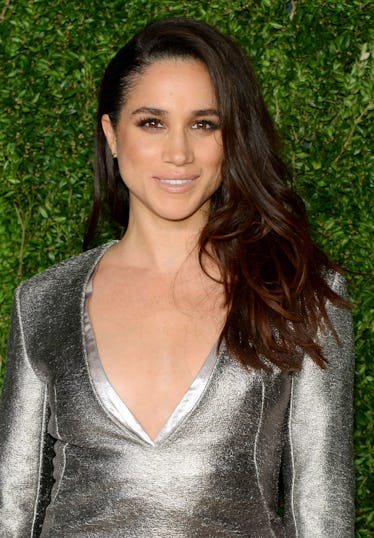 Meghan Markle's First Audition Story Is The Most Empowering Thing Ever
Andrew Toth/Getty Images Entertainment/Getty Images
You might know Meghan Markle as Prince Harry's fiancée, but you first heard of her as the American actress from the USA Network series Suits. Markle is just your average girl who turned into a TV star, and then turned into British royalty. You guys know how it goes. The public has been googling the heck out of this woman ever since her famous engagement was announced, and we've dug up some great details. For example, Meghan Markle's first audition story is pretty inspiring.
Thanks to her engagement, Markle is planning on hanging up her acting hat, for now. But, this decision comes at the end of seven seasons playing Rachel Zane on Suits. Back in 2013, she sat down with Larry King and costar Patrick J. Adams to talk about their on-screen chemistry. As part of the interview, both actors revealed what went down at their first official auditions in show business.
Adams described a common scene in the entertainment industry and explained how he attended a cattle call for the movie Sleepless In Seattle. He said "absolutely nothing came of it." For Markle, things went a little bit differently. She told Larry King,
Ya know, I had had a lot of commercial auditions, but my first, when I was really giving this a go, my first audition was for a film called A Lot Like Love, which my friend Lindsay was working in the casting office for. And, I went in for a girl that says 'Hi.' And, I remember going into the director and literally they're like, 'So can you say hi?' And I said, 'I can. But, I read the script and I really respond to this other character and I would love to read for that.' And I remember they were just like, 'Well, this girl certainly has some moxie.'
Low and behold, she got the 'Hi' part. She also said they let her improvise a little.
Here is that scene:
Now, Markle is taking that same determination and moxie to Buckingham Palace. One could definitely call her relationship with Harry a "whirlwind romance." Plus, casually becoming the Queen's granddaughter-in-law is probably not for the faint of heart.
Prince Harry and Markle became engaged after just one year of dating, and are putting the pedal to the metal with wedding planning. The Clarence House announced the good news in November of 2017 with this statement:
His Royal Highness The Prince of Wales is delighted to announce the engagement of Prince Harry to Ms. Meghan Markle. The wedding will take place in Spring 2018. Further details about the wedding day will be announced in due course. His Royal Highness and Ms. Markle became engaged in London earlier this month. Prince Harry has informed Her Majesty The Queen and other close members of his family. Prince Harry has also sought and received the blessing of Ms. Markle's parents. The couple will live in Nottingham Cottage at Kensington Palace.
According to Harry, it sounds like the transition from Markle's acting family into her royal family will go swimmingly. In an interview with BBC, Harry discussed what it was like when Markle first met his brother, Prince William.
It was exciting! I'd been seeing her for a period of time when I literally didn't tell anybody at all, and then William was longing to meet her, and so was Catherine. They're our neighbors, so we've managed to get that in quite a few times now . . . Catherine's been absolutely amazing, as has William, as well, you know, a fantastic support.
It all sounds like a pretty happy ending for a girl that can say "Hi."
Catch her full interview with Larry King below!
Check out the entire Gen Why series and other videos on Facebook and the Bustle app across Apple TV, Roku, and Amazon Fire TV.