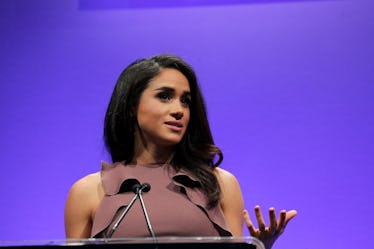 What Is Meghan Markle's Net Worth? The Actress Makes A Pretty Penny
Tasos Katopodis/Getty Images Entertainment/Getty Images
Meghan Markle is officially engaged and set to be married to Prince Harry, and we're all happy crying over this magical news. Among much excitement and many questions, you may also find yourself wondering, what is Meghan Markle's net worth? Well, it might not have involved a crown up until now, but it sure as hell is worth noting. Her acting career is bringing in more than just IMDb credits.
Meghan Markle is a 36-year-old actress who is most notably known for playing Rachel Zane in Suits, a show about fierce lawyers and endless scandals. She has also starred in other films, but we all know how being a regular on a popular TV show can be where the real money is raked in.
So, what does this gorgeous human being have sitting in the bank? Let's just say it's a lot more than us average Joes probably have, and to be honest, she's going to inherit so much more when she is actually married into The Royal Family.
According to Metro, Meghan Markle's net worth is somewhere around $7 million. And if you want to keep with the measure of currency with what her fiancé and his family are used to, that's about $5 million pounds. Even with that conversion, Meghan has totally slayed her own bank account, and it's no secret to us.
Of course, that net worth can't heavily compete with the historic income of any royal family, but it shouldn't be a competition, anyway. You can only imagine what sort of inheritance Meghan is marrying into. It's not all about money, but it doesn't cost anything to wonder about it though, right? If it did, our broke butts probably couldn't even afford to think about it. Forget all of that penny for your thoughts crap.
According to Fortune, Prince Harry was given a little over $13 million back in 2014 when he hit 30, from a trust fund his late mother, Princess Diana, organized for him. And even before that, he made a reasonable income when he was in the British Army Air Corps. Yes, Meghan copped a prince and a solider, all in one.
Royalty isn't completely chalked up to what some people make it out to be. There's a lot more to royalty than we know, and even thinking about the in's and out's can be super exhausting.
Clearly, we don't want to simply focus on the monetary advances of this engagement, but it is difficult to not be mesmerized by those potential zeros, you know? I'd say, this is the epitome of a power couple. I'm not sure the applauding for this couple will ever stop, because we simply cannot get enough of their dynamic. They peak interests, and make us wonder how The Royal Family is going to change and adjust to this incredible new addition (who, might I add, knows how to rock a white coat like it's no one's business).
Call it being nosey or curious, but we are never going to have enough of their every move, and if I had to choose a couple in the limelight to go all weak in the knees over, it'd be them. In all honesty though, it's relieving to believe that regardless of how much money revolves around this duo, that's not what the union was entirely about. People still marry because they're in love, even if you have to get crowned and change your title in the process. Ultimately, we are incredibly here for the exciting engagement of Prince Harry and Meghan Markle, because love really doesn't cost a thing. We wish the couple all the best.