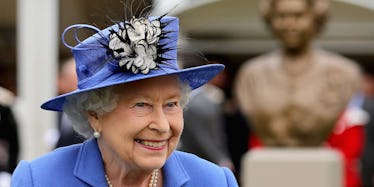 Queen Elizabeth Just Graced Us With A Tweet And It Was Obviously Pure Gold
REUTERS
Drop everything and check Twitter -- Queen Elizabeth just sent a personal tweet.
That's right, the big lady herself thanked people for their "digital messages" congratulating her for turning 90.
She signed off with "Elizabeth R." Classy.
Here's the tweet.
And for the non-believers, here's the royal confirmation.
And for the super non-believers, here's the queen using her royal tablet to send the tweet at her gold-encrusted desk. (Check out that swanky interior!)
Her birthday was on April 21, but she doesn't celebrate it until one Saturday in June because of royal tradition.
Royal lovers swamped the streets of London to cheer on the queen as she watched a Royal Air Force flyby from her Buckingham Palace balcony on June 11.
Around 10,000 people then descended on The Mall, London the following day for a massive party.
Queen Elizabeth is the longest-serving monarch in British history.
But don't think just because she's getting older she's getting any less sassy.
Her Majesty was caught on video giving her grandson, Prince William, Duke of Cambridge, a telling off on her birthday.
She gives him an icy-cold stare before tapping his arm and mouthing, "Stand up." Owned.
Citations: The Queen cordially tweeted her thanks to everyone who wished her a happy birthday (Mashable), Queen tweets 90th birthday thanks (BBC)