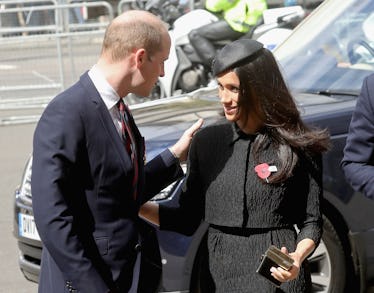 Meghan Markle & Prince William Shared A Surprisingly Sweet Moment That You'll Love
Chris Jackson/Getty Images Entertainment/Getty Images
While many narratives mark the moment you say "yes" to spending the rest of your life with the person of your dreams as the happily ever after part of the romance, I'd argue that the moment when you're officially in with the family carries the most weight in terms of a couple's future. I mean, let's be real. When you're marrying someone, you're not just marrying them; you're marrying their entire family. That's true for us commoners and it's especially true for the royals. One moment shared by Meghan Markle and Prince William at the Anzac Day commemoration service on Wednesday, Apr. 25 proved that getting in with the family definitely isn't an issue for Prince Harry's bride-to-be.
The moment took place yesterday outside of Westminster Abbey. For those of you out of the loop on what Anzac Day is, the Australian War Memorial website says "it marks the the anniversary of the first major military action fought by Australian and New Zealand forces during the First World War." In fact, ANZAC is an acronym that stands for "Australian and New Zealand Army Corps."
Now that we have the backstory on the holiday, let's dive right into the adorable moment shared by the future in-laws. To honor Anzac Day, William, Harry, and Markle all attended a commemorative service at Westminster Abbey.
Upon arrival, William and Markle were already looking super chummy. I mean, seriously. Just look at them.
It's like, ummm, get out of the way, Harry, these two besties are clearly chatting about things that don't concern you. (To be clear: that was a joke and I actually have no idea what they're talking about but don't Meghan and Prince William just look so chummy?!).
In the above images, I imagine William pulling Markle over to gush about how much he and Kate absolutely loved the onesie she got their new baby. And in response, Meghan says he'll never guess where she got it. At which point, William obviously asks her to spill the deets. But, hey, that's just my take on things.
If the first two images weren't cute enough for you, check out this one of them greeting each other with a cordial kiss on the cheek.
IF THAT'S NOT FRIENDLINESS AT ITS PEAK, I DON'T KNOW WHAT IS.
Needless to say, people all over Twitter are gushing about the pictures of the two.
William hasn't been shy about his fondness for his future sister-in-law in the past. When Markle and Harry announced their engagement, he responded by saying, "we're very excited and delighted for them both, and wish them all the happiness in this very exciting time."
In the same statement, he continued to tell the reporter about all of the great times Harry and Markle have ahead of them:
The engagement, the build-up to the wedding. They've got a lot of happy times ahead of them in life. They are very caught up in the moment, and I wish them all the happiness and success in planning the wedding. I hope it goes really well.
In a more formal statement, Prince William and Kate said: "We are very excited for Harry and Meghan. It has been wonderful getting toknow Meghan and to see how happy she and Harry are together."
As if that all wasn't adorable enough, Kensington Palace announced this morning that Harry has officially asked William to serve as best man at his wedding.
I don't know about you but I, personally, am looking forward to a bright future filled with plenty of double dates shared between the two royal couples.
Check out the "Best of Elite Daily" stream in the Bustle App for more stories just like this!