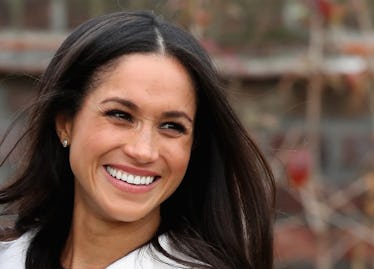 Meghan Markle Completely Bombed This Quiz About The UK, So Sorry Prince Harry – VIDEO
Chris Jackson/Getty Images Entertainment/Getty Images
Some people are born royalty, others become royalty. Prince Harry officially popped the question to American actress and girlfriend Meghan Markle earlier this month, making her the second civilian in my lifetime to marry a prince. While she may be an expert on royal love, Meghan Markle failed a British facts quiz, so there's that part. Oops.
The happy couple made the official announcement in a statement from the Clarence House on Nov. 27. It said,
His Royal Highness The Prince of Wales is delighted to announce the engagement of Prince Harry to Ms. Meghan Markle. The wedding will take place in Spring 2018. Further details about the wedding day will be announced in due course. His Royal Highness and Ms. Markle became engaged in London earlier this month. Prince Harry has informed Her Majesty The Queen and other close members of his family. Prince Harry has also sought and received the blessing of Ms. Markle's parents. The couple will live in Nottingham Cottage at Kensington Palace.
Since then, it's been a flurry of excitement as the public has done tons and tons of googling on both Prince Harry and Meghan Markle. Here's what we've learned...
You might recognize Markle from her seven seasons on the USA Network show Suits. Her big plan is to retire from the series and become a U.K. citizen, obvi, when she marries Prince Harry. According to their statement, we can anticipate this big-*ss wedding going down sometime in 2018, when surely our news feeds and social media accounts will be flooded with royal wedding gossip.
Of course, it didn't take the internet long to find a way to poke holes in this happy union.
A very specific video of Markle taking a quiz on British culture has surfaced from 2016, and she does... not great. While visiting the British show Dave, she has to "name the British ale," "pick the British place," and name the national animal of England, among other questions. Out of the entire quiz, she only correctly identifies the English term for "trashcan," which is "bin." She gets every other question wrong.
The video is pretty facepalm worthy for someone who is about to marry a literal Prince.
Still, we can't expect her to know everything, and you can't help who you love.
Reportedly, the two began dating in November 2016, which puts their engagement right around the one-year mark. Based on an interview she and Prince Harry did with BBC, it sounds like the proposal was pretty relatable.
According to Markle, the two were "attempting to roast a chicken" when Harry got down on one knee. It sounds like she barely let him get the question out. Harry recalled,
She didn't even let me finish. She said 'Can I say yes? Can I say yes?', and then there were hugs and I had the ring in my finger and I was like, 'Can I give you the ring?' She goes, 'Oh yes, the ring.'
And what a ring it is. According to reports, the bauble boasts a giant center stone from Botswana, and is flanked by two smaller diamonds that came from Princess Diana's collection. Harry says it's "to make sure that she's with us on this crazy journey together."
Markle added,
I think everything about Harry's thoughtfulness and the inclusion of [Princess Diana's stones] and obviously not being able to meet his mom, it's so important to me to know that she's a part of this with us. It's incredibly special to be able to have this [ring] which sort of links where [Harry comes] from and Botswana, which is important to us. It's perfect.
I mean really... what's a few failed British questions when it comes to true love?
Congratulations, you wild and crazy kids!
Check out the entire Gen Why series and other videos on Facebook and the Bustle app across Apple TV, Roku, and Amazon Fire TV.