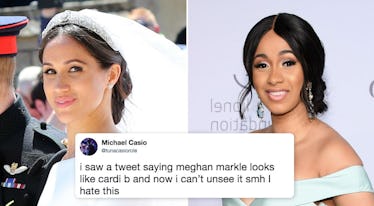 Twitter Thinks Meghan Markle & Cardi B Are Twins & You Won't Be Able To Unsee This
Gareth Fuller - WPA/Getty Images; Dimitrios Kambouris/Getty Images; Twitter
Wait, what is happening? Did Cardi B just marry Prince Harry, Duke of Sussex? Somehow, someway, the universe (a.k.a. the internet) revealed the "Bodak Yellow" rapper could be Meghan, Duchess of Sussex's sister from another mister. Meghan Markle and Cardi B look like twins in photographs and their resemblance has me and fans everywhere shook. Life is weird, right?
While these two women don't share any lineage, their DNA aligned in such a way that they really could be the same person if you glance quickly.
After a weekend of spectacular royal wedding footage, fans started to catch on to the resemblance. Maybe it was her makeup. Maybe it was her hair. Maybe it was a weird celebrity phenomenon, but even in her three-quarter-length sleeved wedding gown and traditional, classy veil, Meghan somehow looked just like the hilarious rapper.
The tweets on their resemblance came pouring in.
Now you see it, right?
According to Entertainment Tonight, when Meghan and Prince Harry first announced their engagement back in November 2017, Cardi B was ready to be front and center on their big day. She told Britain's Capital XTRA radio station that she was a big fan, would love to meet the Prince, and even dropped her name in the mix to perform at the wedding (unfortunately, Elton John must have filled her slot). She told interviewers, "I'm a fan of their whole story. I'm a fan of the fact that it's just, like, people still stuck to that tradition of royal kingdoms and everything. That doesn't happen in America."
For Cardi, it was cool enough that Prince Harry was a prince and no other requirements were needed to impress her. "I want to meet Prince Harry, just because of the fact that he is a prince," she said. "Like, 'Yeah you met a president, but did you meet a prince?"
At the time, Cardi B even said she'd perform for free because, "It's like oh snap! 'Have you performed for a future king?" Never mind the actual odds of Prince Harry ever becoming king are super small — it's the thought that counts!
Coincidentally, Cardi B released a music video right on the heels of the royal wedding featuring herself in her own variation of a wedding gown. The video is for her new track, "Be Careful," and not unlike Meghan at her own wedding, Cardi B is rocking all white. She's also sporting a platinum wig and serious lashes, making her look less like Meghan in a wedding gown than she does in real life.
Take a look:
Just a little different than BBC's streaming of the royal wedding, right?
Where Cardi B is rocking full-on tulle, a massive choker necklace, and meeting a groom in a cowboy hat at the altar, Meghan stunned in a sleek silhouette, simple earrings, and her royal groom was in uniform.
Oh yeah, plus that tiara she borrowed from the Queen or whatever.
In another fun plot twist, Cardi B is actually planning a wedding of her own in real life. She and her on-again, off-again fiancé, Offset, plan to get married sometime this summer after welcoming their first child together. According to Cardi. Expect the dress code at their wedding to be much, much different. She told New York Magazine everyone will be required to wear her staple color, red, adding, "The world is not ready for it."
Oh, I beg to differ, girl. Will you invite your twin sis, Meghan? Say yes.
Check out the entire Gen Why series and other videos on Facebook and the Bustle app across Apple TV, Roku, and Amazon Fire TV.