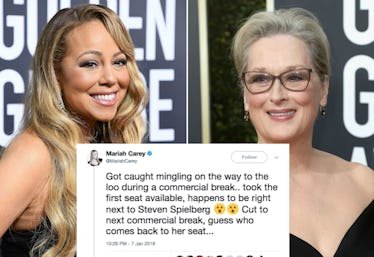 Mariah Carey's Tweets About Stealing Meryl Streep's Golden Globes Seat Are Hilarious
Steve Granitz / Contributor & Frederick M. Brown / Stringer
My goodness, I love Mariah Carey. I love her whole deal. I love how unapologetic she is about her wants and needs as a performer. I love that she refuses to change for anyone. I love that she is seemingly never embarrassed, insecure, or unsure of herself. And, I love that she accidentally took Meryl Streep's seat at the 2018 Golden Globes. Girl, you're wild. Mariah Carey's tweets about stealing Meryl Streep's seat at the Golden Globes are so charming and hilarious, you've just gotta say, "Heartbreaker, you've got the best of me."
Or, whatever. You get the reference.
First of all, we can understand the confusion. To begin, every woman was dressed in all black to raise awareness about the #MeToo and #TIMESUP movements, and to protest sexual harassment in the entertainment industry and across the globe. It was awesome. During a night when celebrities usually use fashion to stand out, this time, the women of Hollywood dressed together in uniformity. All of this to say, Carey might have lost track of where she was sitting thanks to the sea of black outfits.
We almost went our whole lives never knowing about the mix-up, but fortunately, Carey tweeted the play-by-play. She said,
Got caught mingling on the way to the loo during a commercial break.. took the first seat available, happens to be right next to Steven Spielberg Cut to next commercial break, guess who comes back to her seat...
(me) Dear Meryl, please forgive me!!!
(MERYL STREEP) You can take my seat any time!
CAN WE PLEASE WITH MARIAH CAREY WRITING THE WORDS, "DEAR MERYL."
Ugh, why do I love this so much? (Also, why am I reading Meryl Streep's response with a British accent?)
Picturing these two iconic women sharing this goofy relatable moment is just too much. Also, like, Spielberg could have said something. Uh, a little help here, bro?
Streep was nominated for Best Actress In A Drama Motion Picture for her work in the movie The Post, and Carey was nominated for Best Original Song in the movie The Star. Alas, both women went home empty-handed this year. Frances McDormand of Three Billboards Outside Ebbing, Missouri took home Best Actress In A Drama, and Carey lost out to the song "This Is Me" from the musical phenomenon The Greatest Showman.
However, there are no hard feelings from these two women. Between them, they have enough fancy awards to wallpaper a house.
Plus, Streep's acceptance speech for the 2017 Cecil B. DeMille Award will carry me through many Golden Globes to come. If you recall, Streep took the stage last year to drag Donald Trump and ignite a fire in the hearts of women and men everywhere. She said,
There were many, many, many powerful performances this year... breathtaking, compassionate work. But there was one performance this year that stunned me. It sank its hooks in my heart, not because it was good. There was nothing good about it... It was that moment, when the person asking to sit in the most respected seat in our country imitated a disabled reporter: someone he outranked in privilege, power and the capacity to fight back.
She added,
Disrespect invites disrespect. Violence incites violence. When the powerful use their position to bully others, we all lose... We need the principled press to hold power to account, to call them on the carpet for every outrage. That's why our founders enshrined the press and its freedoms in our constitution.
Looks like the Golden Globes is the place to take a stance on important societal issues and a seat in important icon's chairs.
Love to love you, Mariah and Meryl. You can always sit with us.
Check out the entire Gen Why series and other videos on Facebook and the Bustle app across Apple TV, Roku, and Amazon Fire TV.