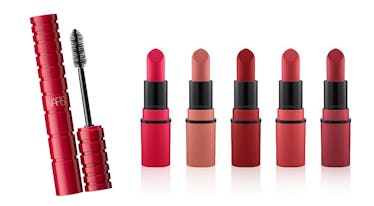 Macy's VIP Sale Has Discounts On The Best In Beauty, So Catch Me Looking Fab Post-Splurge
Attention, all shoppers! The Macy's VIP sale is here, and the deals are to die for, so stop what you're doing and make room in your makeup bag, because we have been #blessed with beauty savings of Black Friday-esque proportions. What's the deal, you ask? An extra 15% off beauty and fragrance using promo code VIP — not too shabby, am I right?
The Macy's VIP sale isn't just for cosmetics and fragrances, though, as it offers up to 30% off of other regularly priced departments as well. Personally, though, I'm here for the beauty deals, and I've got a laundry list a mile long of products I can now justify buying thanks to that extra 15% off.
So what am I getting? One my my favorite pricy products to stock up on during a sale is a good perfume, since they tend to cost a little more than standard cosmetics. After trying out a sample of the CLEAN Fragrance Reserve Blonde Rose ($95, sephora.com) and being complimented dozens of times while wearing it, I intend to use the sale as an opportunity to pick up another of the line's fresh, inviting fragrances. I normally wouldn't buy a perfume I don't already love, but sales give me that ~rush~ that allows me to take a leap of faith, and I love exploring brands that already have at least one product or scent I adore. This time around, I'll be snagging CLEAN Fragrance Ultimate Eau de Parfum ($70, originally $82, macys.com), which has notes of Italian bergamot, Provençal lemon, lavender, jasmine, white rose and muguet. It's still humid out, so I can totally just spritz this and pretend it isn't fall yet, right?
I might also snag the men's cologne Jean Paul Gaultier Le Male in the Navy ($78, originally $92, macys.com) for one of the many boyz in my life, because it just smells so damn good. So good, in fact, that my female roommate even wears this cologne as her night-out perfume. Fine, you caught me, there are no boyz in my life, and I'll be buying it from her. Even though it is touted as a men's fragrance, I think anyone can appreciate the powerful notes of peppermint, oceanic accord, vanilla and amber gris.
Moving on to color cosmetics, even major beauty brand MAC is on sale, which is how you know I'm about to drop some serious coin. What can I say, a girl loves her lipstick!
To ensure I've got the perfect variety of shades to dole out multiple statement lip selfies this fall, I'll be picking up the MAC 5-Pc. Look In A Box Warm Lipstick Set ($28, originally $33, macys.com) which claims to be a $60 value, so you know the savings here are ~on point~. The set contains five mini lipsticks in some seriously stunning shades: "Kinda Sexy" is a neutral rosy matte, "See Sheer" is a grapefruit lustre, "Pink Pigeon" is a bright hot pink matte, "Russian Red" is a cool-toned matte red (that everyone needs in their collection, IMHO), and "Chili" is a unique brownish orange-red that is so, so on brand for autumn.
Along with MAC, there are tons of other major beauty brands in the sale as well, including IT Cosmetics, Too Faced, Urban Decay, NARS, and more. In fact, I'll definitely be picking up the new NARS Climax Mascara ($20, originally $24, macys.com) that everyone's been raving about.
As for my final splurge during the sale, I'll be sure to stock up on some discounted skincare, because even when my bathroom cabinet is fully stocked, I can always justify another serum or two. I've got my eye on the Lancôme Advanced Génifique Serum ($66, originally $78, macys.com), because I'm expecting tons of late nights and early mornings this fall, so I'll be treating myself to only the best anti-aging, skin-reviving products on the market. I'll also definitely be picking up a pack of the BABOR Perfect Glow Ampuole Concentrates ($34, originally $40, macys.com), because I'm a huge fan of amuoles for guaranteeing the ideal amount of product for each application. The Perfect Glow Ampuoles in particular help to hydrate, even out your complexion and provide a radiance boost, and your girl needs option D: All of the above.
See anything you like? There are tons more beauty must-haves on the Macy's website, but if you're hoping to snag that extra %15 off with code VIP, you need to act fast: the sale ends September 24. Good luck picking up all your favorites, and if you feel like treating me to a little gift as well, anything on this list will do!