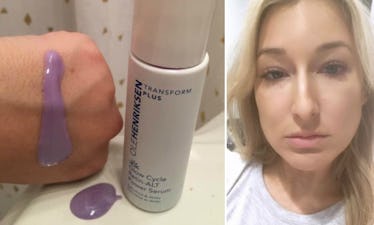 This New Lavender Serum From Ole Henriksen Is Prettier Than Me & I'm OK With It
Alana Peden
It is a fact largely undisputed in the dermatology world: retinol, aka vitamin A, is the gold-standard of anti-aging skincare. The long-studied, heavily-lauded ingredient has been proven to turn over fresh skin cells, thereby preventing fine lines and wrinkles. While many skincare brands formulate products containing retinol, one brand has dared to do without. My Ole Henriksen Glow Cycle Retin-Alt review is here to challenge our collective dependence on retinol — because we could be slathering our faces in powerful, *Instagrammable* herbs instead.
I met Ole Henriksen, a happy Scandinavian man with brilliant skin, in person to discuss his eponymous brand's newest launch. Known for taking a clean, natural approach to skincare, Henriksen told me he was inspired to find an alternative to retinol that wouldn't induce redness, sensitivity, and dryness, side effects experienced by some retinol users (but for the record, not me). His journey brought him to India and bakuchiol — a plant-derived antioxidant employed in ayurvedic medicine, which boasts anti-inflammatory and anti-bacterial benefits that keep skin tight and clear.
I've never been to India or heard of bakuchiol, so I jumped on the chance to test Henriksen's new muse out myself. With a spate of products that smell phenomenal and deliver serious results (like the Banana Bright Eye Cream ($38; sephora.com), which sold out upon launch), I anticipated the Goodnight Glow Serum and Sleeping Crème would be excellent. I didn't expect them to be purple.
The Retin Alt Power Serum, a lightweight pastel elixir, is so beautiful that I'm jealous when I dispense it. Even though Henriksen told me that I have gorgeous skin (he's a charmer), I know I pale in comparison to the allure of this pearlescent liquid. It may be packed with the workhorse combination of bakuchiol (responsible for the Insta-friendly hue) and exfoliating alpha hydroxy acids, but it looks like a total show pony.
As I massage in the milky serum, the pigments melt away and imbue my skin with its own hint of pearly iridescence. I feel radiant. Not to mention, it smells sweet and citrusy (uncannily similar to Fresh's iconic Sugar scent), which Henriksen explains is a natural aroma. The scent alone is reason enough to ditch traditional retinol, which smells like nothing.
I follow by applying the Sleeping Crème, the name of which makes me feel like Sleeping Beauty. Heavier than a K-beauty water cream but lighter than your average moisturizer, it layers neatly over the serum. At this point, a tingling sensation occurs but I see no evidence of redness or irritation, so I feel satisfied it lives up to its "work hard, irritate none" claim. I retire to bed and dream of becoming a really pretty purple serum.
The next morning, my skin has a believable glow, even tone, and discreet pores. I'm a regular user of conventional retinol, and the immediate results are definitely comparable. While I'll be the first to concede that a product with anti-aging claims requires a six-week long testing period or longer, I'm convinced that this duo are worth a regular rotation in my skincare regimen. Since I'm a beauty editor and skincare is pretty much all I care about (see Theresa if you wanna talk makeup), this is a huge distinction.
The Ole Henriksen Transform Plus Glow Cycle Retin-Alt Power Serum ($58; sephora.com) and Retin-Alt Sleeping Crème ($55; sephora.com) are available exclusively at Sephora online and in-store on Friday, August 10. Everything Henriksen crafts has a tendency to sell out, so don't dawdle (especially if a highly-Instagrammable experiment in alternative skincare methods appeals to you).