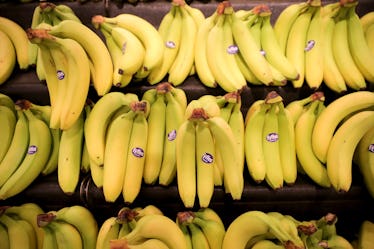 This Brightening Banana Eye Cream Is So Dang Good, Sephora Can't Keep It In Stock
Christopher Furlong/Getty Images News/Getty Images
Thanks to the internet, when a product is good, you know about it in lightning speed. From bloggers waxing poetic about exceptional results to retailers running out of stock, there are many ways to deduce whether or not a product is legitimately effective. Ole Henriksen's Banana Bright Eye Cream is one such product. Currently, it's sold out at both the brand's own website and at Sephora, proving that it's high in demand and, subsequently, actually works. Get in line, because as soon as it's restocked, it's guaranteed to fly off the shelves again at lightening speed.
According to Ole Henriksen's website, the eye cream "brightens and instantly targets fine lines and wrinkles" and "firms and deeply hydrates even as it feels deliciously lightweight." Overall, it's meant to revive and illuminate your entire eye area, which makes sense seeing as it contains Vitamin C, jojoba oil, and shea butter. Where does the banana come in, you ask? The cream contains "banana powder," which has a yellowish shade to it that helps to counteract dark circles when applied on top of them and it also serves as a great base to build concealer on top of. In other words, it seems to be a miracle product. As one Fashionista editor described it, "this cream instantly tamps down bluish tones, illuminating the under eye area before your concealer even goes on." Sold.
Except, not, because it's sold out everywhere. In my state of lamentation, I searched for other banana-infused products to satisfy my fruit beauty craving until the eye cream comes back in stock. Considering bananas are full of amazing things like potassium, B vitamins, Vitamin C, Vitamin A, and amino acids — things that all promote healthy skin — they'll actually be incredibly smart beauty investments.
Complexion
Okay, the TONYMOLY packaging team is clearly filled with geniuses. Hopefully, this overnight mask will be as perfect as its mini banana container. Made with banana extract, milk protein, and Chamomile extract, it's meant to hydrate, sooth, and moisturize.
Under Eyes
While it might not be blended into a nutrient rich cream, this banana powder will boast the same color correcting properties as the Ole Henriksen eye cream. Described as a "silky-fine, mattifying translucent setting powder," it'll keep your makeup in place while helping to counteract dark circles. The best part? It comes in a range of four shades, so everyone can reap its benefits.
Body
I love Korean beauty products for so many reasons, namely because they work wonders! Their packaging is also always ace (see the TONYMOLY product above) and their descriptions can be good cause for a chuckle or two. Case in point, the description for this lotion, which reads, "Very soft skin like banana fell plop into the milk." Love. It. Along with banana, the lotion contains milk protein, which helps hydrate dry skin.
Hair
Containing banana puree from Ecuador and Brazil nut oil from Peru, this vegan hair mask will help nourish dry, frizzy hair and make it shine. You're meant to use it once a week for optimal results but I think it will take me all of my willpower to not crack the tub open twice a day just to take a whiff. (Please see photo above.)
Lips
While the banana in this product might be more for flavor and scent than beneficial ingredient properties, I am cool with that considering it's going on my lips. The SPF 30 chapstick also includes aloe vera and cocoa butter, meaning it'll leave your lips super nourished and smooth, and will help prevent those flaky and cracked summer lips that are so hard to heal.