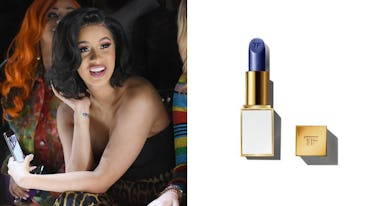 Tom Ford's Cardi B Lipstick Sold Out In A Flash, But These Amazing Dupes Will Save The Day
Nicholas Hunt/Getty Images Entertainment/Getty Images // Tom Ford Beauty
Cardi B is a woman who definitely isn't afraid to get a little bold with her looks. From rainbow wigs, to hot pink 'dos, the rapper has taken us all along for her style journey since her career has taken new heights. And now the beauty world is giving a little something back to the queen in return. On Sept. 8, the birth of Tom Ford's Cardi B lipstick was officially announced via Tom Ford Beauty's Instagram page as a part of the brand's latest Boys & Girls collection. As expected, fans went crazy for the uniquely deep blue shade; so crazy that after only one day, the lipstick completely sold out — both online and in-store (which is amazing for Cardi, but totally sucks for us) in less than two days!
When the product first launched, the new mom quickly regrammed the pic from Tom Ford with the caption, "Thank you so much @tomford and @tomfordbeauty!!! So excited for this and what's to come!!" Shortly after, she posted another photo stating that the lipstick was out of stock, and simply told her followers, "Sorry:/....."
Since the product literally disappeared in a flash, those of you who are craving a luscious blue lip are probably wondering how to get your hands on the shade. Thankfully, there's definitely a way to grab some, but sadly, it's going to require a little patience and a lot of hope.
To get some of Tom Ford's bold new lipstick, you'll definitely have to keep your eyes peeled in-stores, as well as set up notifications on the brand's social media channels to find out when the $36 product will be re-stocked. You can also scroll down to the bottom of the brand's site to sign up for their newsletter to get the latest news on releases. So fingers crossed the luxury retailer announces a re-stock sooner than later!
But the lipstick itself isn't the only thing that caused quite the frenzy online as of late. On Sept. 7, Cardi and fellow rapper Nicki Minaj apparently got into a physical brawl at Harper Bazaar's annual ICONS party during New York Fashion Week. And as a result, when the Cardi lipstick was announced a day later, things got quite heated among fans from both parties on Instagram, Allure reported.
"I love Tom Ford beauty and have invested a lot of money in their products," one person wrote. "But this is one lip stick I will knot [sic] purchase. I'm honestly shocked that your brand would endorse any product associated with her. Can't believe it actually sold out." But in contrast, another user replied, "Cardi inspire me to stay true to myself and never let someone to take advantage of me, I want it!!!!!"
But whether you're on team Cardi, or team Nicki, I think we can all agree that everyone's on-board with team dope lipstick. So while we wait for Tom Ford Beauty to re-stock the gorgeous blue shade, let's take a look at a few products you can purchase in the meantime, shall we?
Fingers crossed Tom Ford Beauty comes through in the next little while, but until then, you definitely won't be disappointed with these awesome dupes.