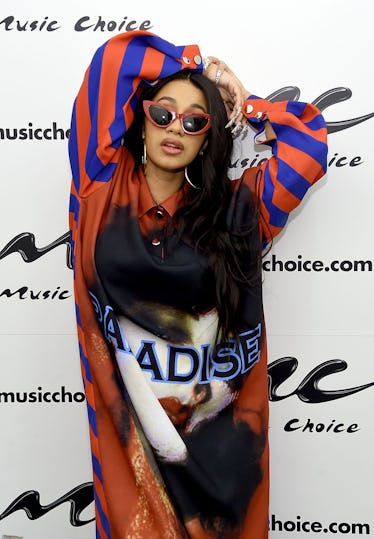 Cardi B Just Debuted New Hot Pink Hair That's Basically The Shade Of My Dreams
Jamie McCarthy/Getty Images Entertainment/Getty Images
When it comes to hair, not all celebs — or us common folk for that matter — are willing to go bold with their styles. But Cardi B's new hot pink hair proves that the rapper isn't afraid to get a little wild when it comes to her wigs. Debuting her new hot pink 'do on Aug. 25, the new mom nearly broke the internet that day with a cool 4 million likes on Instagram.
Captioning the photo, "im on my way to you," the 25-year-old posed in some gorgeous, lacy, black lingerie, sitting on top of a wooden table inside of what appears to be a luxurious private jet. I mean, seriously, is there really a better way to debut hot pink hair when you're a celeb?
Hairstylist Tokyo Stylez — the same person who sculpted Cardi's VMAs red carpet pixie cut — created the iconic look for the performer, using hair from The Real Exotic Hair. The beauty guru made the masterpiece with a clear hint of '90s inspiration, judging by the chunky bleach blonde highlights framing her face, which gave me some serious Ginger Spice vibes. And if you're someone who's familiar with Cardi's wig collection, you already know that when it comes down to length, this new piece would be no exception to the artist's regular lengthy rules.
This particular wig measured at just about 45 inches long, Stylez confirmed to Allure, which means the hair reached down to the middle of Cardi's thighs.
The musician also posted another photo of her backstage rocking the brightly-colored wig, this time pairing it with a long-sleeve leather ensemble, complete with fishnet stockings and black ankle boots — which really made the wig pop.
While, of course, it was Cardi's hair that stole the show, I also have to say that her makeup was looking absolutely flawless, too. Lucky for us, her key makeup artist Erika La' Pearl shared all the deets for both of Cardi's looks.
Reposting both photos to her own page, La' Pearl revealed that Cardi wore lipstick from Myth Cosmetics in "Game of Thorns" ($17, mythcosmetics.com), and stacked Hustler lashes from Nude Cosmetics ($10, shopnudecosmetics.com) to give her eyes a beautiful, fluttery finish while on board the jet. As for skincare, the makeup artist said she used "Purlisse everything." And while she didn't reveal exactly which products she used from the Asian beauty line in this photo, she did share with E! News that she typically preps Cardi's skin with Purlisse's Blue Lotus Seed Mud Mask ($20, purlisse.com) before applying any makeup. "I let it sit for five minutes," she told the outlet.
As for the photo of Cardi backstage, La' Pearl shared that she didn't change much when it came to makeup, but she did get a little more in-depth about what Purlisse products she uses on Cardi to give her skin that trademark glow. "I used skin care from @purlisse their energy face mask are everything! I also used @purlisse watermelon energizing aqua balm moisturizer," the makeup artist wrote on Instagram.
Though the pink wig is definitely out-of-this-wold, this definitely isn't the first time Cardi B has had some fun with her wigs. Back in early June, the then mother-to-be posted a photo on Instagram of herself in a white frock, proudly showing off not only her blossoming belly, but also her extra-long hot pink nails, and rainbow hair (with matching pumps).
While wearing wigs this bold may not be everybody's cup of tea, there's no doubt that Cardi B can pull off some looks that many would never even dare to try in the first place.
You rock, Cardi. Don't ever change.