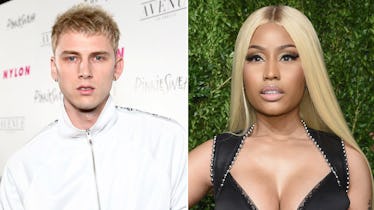 Machine Gun Kelly Revealed His Crush On Nicki Minaj In Ariana Grande's Instagram Comments
Tommaso Boddi/Dimitrios Kambouris/Getty Images Entertainment/Getty Images
Sometimes, an opportunity presents itself for one to shoot their shot, and when that moment arises, they've just gotta take it. And Machine Gun Kelly apparently knows that just as much as any other average human, because he took a pretty big risk on social media, y'all. When Nicki Minaj commented on Ariana Grande's photo of Pete Davidson on Instagram, calling him "the most perfect man on the planet," MGK decided to try his luck with the Queen rapper. And let me tell you, Machine Gun Kelly's comment on Ariana Grande's photo is all sorts of adorable, because it basically reveals that he's crushing hard on our girl Nicki.
It all went down on Tuesday, Aug. 28, when Ariana Grande posted a black-and-white photo of her fiancé, Pete Davidson, looking like a snack. She captioned the portrait with a simple exclamation point, which doesn't really need an explanation. She loves her man, homies!
But then Nicki Minaj chimed in, commenting, "Omg @ the most perfect man on the planet. Wtf does he have a brother btch??!" alongside some crying emojis. Damn, Nicki, tell us how you really feel.
Grande wrote back, unfortunately letting Nicki know that Pete Davidson doesn't have a brother that could be a potential suitor. "No, but I'm the luckiest bitch in the galexy ill tell u dat," Grande said.
Ugh, insert sad face here.
BUT! Even though Davidson doesn't have a brother that he could set Nicki up with, Machine Gun Kelly is *clearly* available, and made it very known.
He commented on the thread, tagging Nicki and writing, "yeah. me."
We see you, Machine Gun Kelly!
So OK, Davidson and MGK might not be blood-related, but they did create the music video "LOCO" together so that's almost the same thing, right?
Ball is in your court, Nicki. While MGK is no Pete Davidson, he does have a similar ~lewk~, so perhaps that's something for Nicki to consider.
You do you, boo.
But we all know one thing for certain: Pete Davidson is totally off limits. Considering he and Ariana Grande got engaged within weeks of dating, it's a well-known fact at this point that the couple is beyond smitten with each other, and it's beyond adorable. Ariana Grande even joked that she understands how their love is annoying to outsiders, which kind of makes their relationship even more perfect (because nobody likes a couple that's unaware of how grossly cute they are).
In an interview with Good Morning America's Michael Strahan, she said, "We're so annoying, huh? It must be the worst," after he noted that the world has been watching their relationship through their social media accounts.
And if you think that comment is too lovey-dovey, prepare yourselves for what Grande had to say next. When asked how she knew that Davidson was The One, she said:
I mean, it's just like a feeling. That's so cheesy. Like, people are always like, 'When you know, you know.' And you're like, 'Oh, yeah. Whatever. OK.' ... You just feel it, you know? All of it. He just ticks every box, and just gets better every day, and I'm very grateful for him. Life is beautiful.
Hitting me right in the feels, Ari.
Maybe all of this just means that Grande and Davidson can play cupid for Machine Gun Kelly and Nicki Minaj, because what better way to be the ultimate power couple than to create another ultimate power couple?
Make that romance between MGK and Nicki happen, Ari and Pete. I'd ship it.