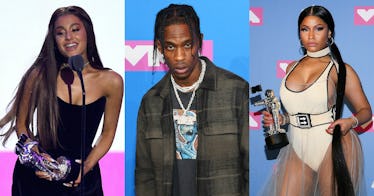 Ariana Grande Just Shaded Travis Scott So Hard, Which Means She's Team Nicki Minaj
Theo Wargo/Nicholas Hunt/Paul Zimmerman/Getty Images
I feel a shade war coming. Nicki Minaj has been super vocal about her distaste for the way Travis Scott is promoting his new album ASTROWORLD. She's tweeted that him including tour passes and merchandise along with his album downloads has given his album a boost and negatively affected Queen's place on the Billboard charts. (ASTROWORLD debuted at #1 on the chart and blocked Minaj's Queen from debuting at the top of the list in its second week). During one of her Sweetener Sessions last night, Ariana Grande shaded Travis Scott, so I guess we know where she stands on this issue.
Grande was in Chicago on Aug. 22 for her second Sweetener Session — a series of small concerts for Grande stans. During the show, Grande's longtime manager, Scooter Braun, went on stage and hyped up the singer and the album, saying he has no doubt it'll be number one on the Billboard Top 200 next week. "We have three days left, you don't know what Travis could pull," Grande responded.
A fan at the show caught the moment on video and tweeted it out so everyone could see the shade and hear all the fans losing it after. Braun interjected and said there is only one day left before Sweetener officially marks one week of being released, so I guess that means the Billboard charts will update soon? I truly don't know how that ish works.
Anyway, all this drama started when Queen released but ASTROWORLD still remained in the number one spot. Kylie Jenner posted on Instagram promoting ASTROWORLD, implying in her caption that she and Stormi were going to be on the tour in some capacity, and Minaj thought that Scott using his girlfriend and daughter to manipulate album sales was a low move to stay at the top.
"I put my blood sweat and tears into writing a dope album only for Travis Scott to have Kylie Jenner post a tour pass telling ppl to come see her and Stormi. lol. I'm actually laughing," she tweeted. She also tweeted a screenshot of Jenner's Instagram post and said,
Travis sold over 50K of these. With no requirement of redeeming the album! With no dates for a tour, etc. I spoke to him. He knows he doesn't have the #1 album this week. I love my fans for the #1 album in AMERICA! I'll explain on #QueenRadio 4 albums in, #1 in 86 countries
The queen is not happy. On Aug. 21, Minaj dished on the drama over ASTROWORLD and Queen on her new Apple Music Beats 1 station show, Queen Radio. "Travis Scott, on Thursday, when he realized that the Queen was about to have the number one album in America," she said, "he and his label decided to have Kylie and baby Stormi put up a tour pass." She continued, "He had her go and post and say, 'Hey, me and Stormi can't wait to see y'all.' How are you selling something that does not have anything to do with your album but it's being counted on Billboard as album sales?"
Basically, Nicki Minaj thinks Travis Scott's attempts to stay at the top are BS and wishes he would just let the merit of their albums speak for themselves. She added that she's not the only person in the rap industry talking about his shady move, she's just the only one being vocal about it. She said on Queen Radio,
But what we not gunna do is have this auto-tune man coming up here selling f*cking sweaters and telling y'all he sold half a million f*cking albums, because he didn't. And it's a lot of rappers behind the scene that wanna talk about it, and they're scared. But sweetheart, I'm not scared. I'm legendary in these streets.
You can listen to the full audio clip here.
Putting the focus back on Grande, she seems to agree with what Minaj said about Scott. Sweetener broke records on Spotify for the best opening week for a woman ever and it's also currently number one on iTunes, so we'll see how all of this reflects on the Billboard Top 200. Just so we have all the context here, Sweetener is number one on iTunes, Queen is number three, and ASTROWORLD is number 10, so... make of that what you will.