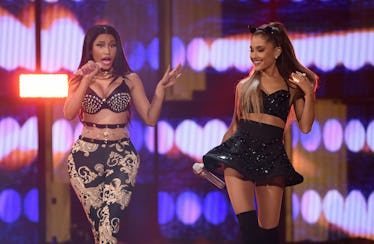 Nicki Minaj Just Posted The Thirstiest Comment On Ariana Grande's Photo Of Pete Davidson
Ethan Miller/Getty Images Entertainment/Getty Images
Ariana Grande isn't the only woman in love with Pete Davidson. Apparently, Nicki Minaj is, too, as is evidenced by a recent comment she left on Grande's latest photo of Davidson. Grande posted a sweet photo of her husband-to-be on Tuesday, Aug. 28, and very quickly, Minaj popped into the comments section to reveal her true feelings. Nicki Minaj's comment on Ariana Grande's photo of Pete Davidson is genuinely sweet and makes you realize how awesome Davidson must truly be.
The photo shows Davidson standing against a white backdrop with his hands in his pockets. He's smiling but looking away from the camera and wearing a hat and striped shirt. The black and white photo is a cute image, for sure, and Minaj made sure to note how much she loves Davidson in the comments.
"Omg @ the most perfect man on the planet," Minaj wrote under the photo. "Wtf does he have a brother btch??!"
Sounds like Minaj is in the market for a new main squeeze. Unfortunately for her, Davidson doesn't have a brother to set her up with (he has a younger sister, though). So, I guess that means Minaj will just have to keep looking for her own "perfect man" to gush about.
Still, it's nice to see that Minaj loves Davidson almost as much as Grande does. As someone who is in Grande's inner circle, she's likely had much more one-on-one time with Davidson than so many other people. So, she's probably a really good indicator of how well Grande and Davidson's personalities mesh. That is, if Grande and Davidson's incessant PDA wasn't already a great indicator in and of itself.
In any case, this is the sweet comment Minaj left on Grande's photo, which you can find here.
Minaj and Grande have shared a long friendship that's brought some of their best collaborations to the mainstream. Back in 2016, the two stars worked on "Side To Side" together and even performed the song at the 2016 American Music Awards.
Here's a look at the amazing performance:
In more recent months, Grande and Minaj have come together to work on a song called "the light is coming" for Grande's newest album, Sweetener. The video is... definitely different. But the song itself is rather catchy. Minaj is featured prominently in both, proving that these two make a great duo when they combine their talents.
In any case, this is the video for "the light is coming":
It's definitely got some sci-fi vibes, which is cool if you're into that. Grande and Minaj kind of look like they're in The Upside Down from Stranger Things.
More recently, Grande and Minaj were seen sharing a bit of juicy gossip at the MTV VMA's. Here's a GIF of the moment:
This definitely proves they're tight. Best of friends. Sisters, basically. So, it really is too bad that Davidson doesn't have a brother to win over Minaj's heart. But fans all know Minaj is a queen (especially if her album is any indication), so she probably has a line of men out the door.