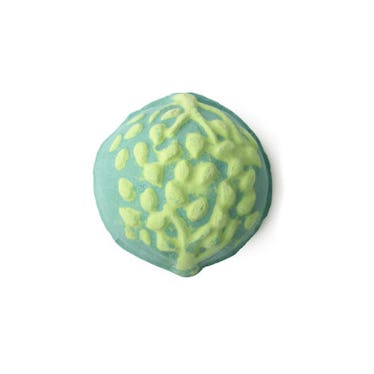 Lush Brought This Fan-Favorite Bath Bomb Back & Lushies Are Stoked To Soak
Coming home after a long day and having a nice, relaxing bath is one of the simple pleasures in life. One of the biggest tragedies, however, is when any of your favorite at-home spa products are discontinued. Lush's Guardian of the Forest bath bomb was previously pulled from the brand's virtual shelves and bath fanatics everywhere were (rightfully) distressed. Your prayers have been answered, though, and the bath bomb gods have brought it back!
There are so many reasons to love Lush. Namely, the brand is committed to reducing plastic waste (it makes package-free shampoo bars), and makes many products specifically to help certain environmental causes (like its Shark Fin soap and turtle bath bombs). Lush is also always coming up with fun and creative new products, like the Ariana Grande "God Is A Woman" bath bomb. An unfortunate downside to this constant innovation, however, is that sometimes an older product must get pushed aside to make room for something new.
Lush loyalists often speak up (usually on Twitter) to plead for the re-release of their favorite products, and often, the brand acquiesces. This time around, the lucky winner is the Guardian of the Forest bath bomb, which Lush has re-bestowed upon the world not just for a limited amount of time, but indefinitely. Consider yourself #blessed.
Guardian of the Forest Bath Bomb
Lush describes this bath bomb as "prickly on the senses at first," "the scent of calming cypress and mystical oakmoss absolute will embrace you, drawing you into the bright, sunlit heart of this woodland bomb." It's made with sustainably sourced rosewood oil, cypress oil, lime oil, and is described as having a "fresh, woody aroma."
The previous version of this bath bomb also had lavender oil in the recipe, but that ingredient can be irritating for some folks with sensitive skin. This 2.0 version looks to be just as good without it.
When Lush announced the return of the Guardian of the Forest bath bomb, the brand also debuted an additional new product.
Milky Bar Soap
Modeled after the Milky Bath Bubble Bar ($8; lushusa.com), the Milky Bar Soap looks like a tiny milk bottle! The novelty soap is made with orange oil, coconut oil, patchouli oil, and is said to have an overall refreshing citrus scent.
Both of these announcements are beyond exciting, but Twitter was particularly fond of the news about the bath bomb's return.
"Lush brought back my favorite bath bomb, Guardians of the Forest, and I am so happy I could cry," tweeted one thankful customer.
"Feeling the calmest I've felt in days after using the @LushLtd guardian of the forest bath bomb," wrote another happy camper. The bath bomb's return is bringing a lot of joy to Lush fanatics.
"GUARDIAN OF THE FOREST IS BACK AT LUSH AND I NEED 50," wrote one customer who's about to stock up on the bath bomb.
A rather artistic bath-taker tweeted this video with the caption, "Guardians Of The Forest Lush bath bomb doing its thing." That is pure #bathart.
The Guardian of the Forest bath bomb is available for purchase online now and will be in stores soon. Happy bathing!