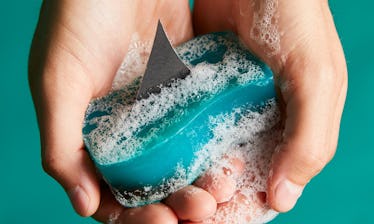 Lush's Shark Fin Soap Is Here To Help Save The Sharks & You're Gonna Need A Bigger Bath
Courtesy of Lush
I can't even try to act tough; I'm terrified of sharks. They're also majestic and beautiful creatures, however, and they could use some extra lovin'. So, how can a shark-phobic animal-lover like myself help to save these giant fish? Lush's 2018 Shark Fin Soap is a risk-free way to support the sharks from the comfort and safety of your fish-free bathtub. Huzzah!
Jaws is at fault for my deathly fear of sharks, particularly the Great White variety. The first of the film series was enough to scare me out of the waters, and yet, I still made time to sit down and watch all three sequels. Call me a masochist, but I love sharks — from the safety of my couch, of course. Naturally, Discovery Channel's "Shark Week" is also high on my list of must-watch shark content. Just as exciting as the fact that Shark Week is here (July 22 through July 30), is that Lush Cosmetics is bringing back its Shark Fin Soap to celebrate!
Lush's Shark Fin Soap has been around since 2014, but only for Shark Week and only in very limited quantities. Luckily, for you and me, 2018 Shark Week is here, and it brought more Shark Fin Soap with it.
The ocean-inspired bar of soap is made from coconut oil, rapeseed oil, sea salt, arame seaweed, lime oil, lavender oil, and other natural ingredients, all of which help to soften and hydrate your skin.
Lush is known for being refreshingly transparent about how its products are made. Like most of its other creations, according to Lush's "How It's Made" video, the Shark Fin Soap is a completely vegan. The ingredients appear to be mixed by hand, and the adorable shark fins are placed individually by hand, as well. The paper shark fins aren't just for show, however, but to raise awareness of the cruel practice of shark-finning.
In 2013, filmmaker Rob Stewart created the documentary Sharkwater to raise awareness against shark poaching as well as to help change the public's mindset about sharks as such dangerous animals. It's reported that nearly 100 million sharks are hunted and killed each year for their fins — shark fin soup is considered a delicacy in many parts of the world.
Stewart sadly died during a scuba diving-related accident while filming his follow-up film, Sharkwater: Extinction, but the proceed's from Lush's 2017 Shark Fin Soap went to help fund the completion of the documentary. This year, Lush is donating 100 percent of the sales from its Shark Fin Soap to the Rob Stewart Foundation to help continue the activist's work.
There you have it, you can have your soap and support the sharks, too. The soap is available while supplies last, so act fast. If it sells out before you get a chance to order some, fear not — Lush will be restocking the limited-edition soaps later on during Shark Week!
Take a selfie with your soap and use the hashtag #savesharks to show off your do-gooder purchase and spread the word so others to do the same.