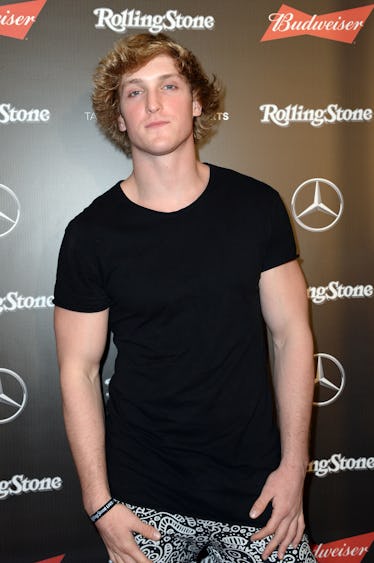 Logan Paul Thinks He Deserves A Second Chance, & Some People Are Not Happy
Gustavo Caballero/Getty Images Entertainment/Getty Images
Logan Paul has not had a very good few weeks. After posting a video of an apparent dead body from inside Japan's famous "suicide forest," Logan Paul faced serious blowback, including lost ad deals and partnerships, as well as the lost respect of many fans. But apparently Paul is hoping it isn't forever. Logan Paul said he wants a second chance, but it doesn't look like everyone is willing to give him one.
On Jan. 15, Paul told TMZ that he thinks everyone deserves a second chance. The gossip publication caught up with him outside Los Angeles International Airport and asked him on camera whether he thinks he deserves a second chance. "Everyone deserves second chances, bro," he said.
"Do you think you've been treated fairly?" The interviewer went on to ask. "By YouTube, by the public?" Paul nodded, not making eye contact.
Paul drew heavy criticism in late December and early January for his video taken in Japan's Aokigahara Forest, also know as the "suicide forest." While walking through the forest, Paul and friends found what appeared to be the body of a man who had ended his own life. The video then showed Paul laughing and making jokes about the situation, which many found disrespectful and upsetting. Many people were outraged, and though Paul pulled down the video and later apologized, many people thought it was too little, too late.
So, a lot of people thought it was a little early for Paul to be talking about second chances.
Elite Daily reached out to representatives of Logan Paul for comment, but did not receive a response by the time of publication.
After the backlash, Paul took down the "suicide forest" video and issued an apology. In a Jan. 1 post to Twitter, he said,
This is a first for me. I've never faced criticism like this before, because I've never made a mistake like this before. I'm surrounded by good people and believe I make good decisions, but I'm still a human being. I can be wrong. I didn't do it for views. I get views. I did it because I thought I could make a positive ripple on the internet, not cause a monsoon of negativity. That's never the intention. I intended to raise awareness for suicide and suicide prevention and while I thought 'if this video saves just ONE life, it'll be worth it,' I was misguided by shock and awe, as portrayed in the video. I still am.
Paul also posted an apology video to YouTube on Jan. 2, in which he said that he was "disappointed in himself" and promised to do better. However, the apology was undermined by reports that the video was monetized — meaning that Paul could have earned thousands of dollars off the apology.
Some people offered suggestions on what Paul could do to earn another chance.
Paul has also seen financial setbacks thanks to the outrage about his video.
On Jan. 10, YouTube announced that they were severing ties with Paul, removing him from their top-tier ad program Google Preferred and canceling his YouTube Red movie, The Thinning: New World Order. In a statement, a representative of YouTube tells Elite Daily, "in light of recent events, we have decided to remove Logan Paul's channels from Google Preferred. Additionally, we will not feature Logan in season 4 of Foursome and his new Originals are on hold."
But it's probably just a drop in the bucket when compared to the overall $3.25 million Paul earned off the platform in 2017 — Forbes reported that even without Google Preferred, Paul would have made a solid $1 million off YouTube. Paul also makes millions off of sponsorships, endorsements, and his clothing brand Maverick.
Since the controversy, Paul has been laying low and keeping quiet, avoiding social media and not posting his vlogs. However, it seems like that won't last forever. Paul's father told fans via Instagram on Jan. 9 that Paul "will be back," and Paul implied something similar to TMZ on Monday. When asked if he had a message to YouTube, he replied, "it's coming." Hopefully not too soon, if fans have anything to say about it.