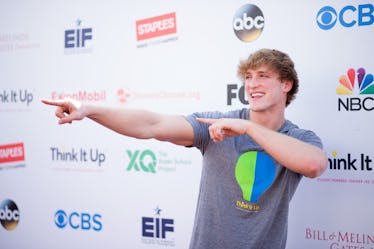 Logan Paul's Dad Says His Son Will Start Vlogging Again In Cringeworthy Video
Handout/Getty Images Entertainment/Getty Images
As controversy continues to swirl over the viral footage gone too far, people are beginning to wonder, "Will Logan Paul vlog again?" His father, Greg Paul, assures fans that's a definite. Though his 22-year-old son did make what can be considered a career-ending move, Greg states on Instagram, "Face it folks....... we all f*ck up at one time or another."
The YouTube influencer's dad took to Instagram to defend his son. He urged "super fans" that Logan will be back online, despite the fact that the 22-year-old posted footage of an alleged suicide victim on his vlog. Greg writes in a caption,
LOGAN WILL BE BACK! SUPER FANS!! BUS UPDATES! MISTAKES!! We all screw up. It's a part of life. Do I agree with everything my boys do. NO! Do I agree with some of the things my friends do? NO! Do they disagree with some things I do? YES! Face it folks....... we all f*ck up at one time or another. That's life!! What we do with those mistakes, bad judgement or whatever term you give it , is what matters. I love my boys and I am sooo proud of them !!
Greg's video takes on a similar tone to his caption. He begins by saying, "Yo, folks, what's happening? GP coming at ya." There isn't an apology, but an assurance that there is a "huge amount" of love pouring in from his son's fans. He decides to close his brief video by stating, "The haters will never, ever have an affect on the Paul family in the way that they want to make it happen because the love is too strong."
Elite Daily reached out to Paul's team for comment but did not heard back by the time of publication.
Logan has come under fire for sharing a video in the Aokigahara Forest in Japan, which is known as one of the world's most popular suicide sites, according to Atlas Obscura. The footage shows an apparent suicide victim hanging from a tree. According to Twitter, the vlog was titled, "We found a dead body in the Japanese Suicide Forest..."
Although the original footage is no longer online, an edited version of the vlog, which does not feature the alleged victim, is making the rounds on the internet. It captures Paul pulling out a bottle sake and stating, "I ain't gonna be sober for this sh*t" as he leaves the forest with his friends. Their discovery and reaction understandably caused outrage online, and as a result, Logan has issued several apologies.
Logan uses Twitter to post an apology video to his fanbase.
In the clip, he says,
I want to apologize to the internet. I want to apologize to anyone who's seen the video. I want to apologize to anyone who has been affected or touched by mental illness, or depression, or suicide. But most importantly, I want to apologize to the victim and his family. To my fans who are defending my actions, please don't. They do not deserve to be defended.
However, it's been reported that Logan's apology video — which mentions a variety of suicide prevention hotlines — has earned him over $12,000. According to reports from SocialBlade, this video could earn Paul anywhere from $12,000 to $97,000 due to the 24.2 million views and a million comments it received. People are in shock.
Naturally, comments about the Paul family are making the rounds on social media — and they're anything but positive.
Logan's insensitive footage has caused the young viral YouTuber to take a hiatus. He writes on Twitter, "taking time to reflect no vlog for now see you soon." YouTube is investigating "further consequences" for Logan, according to The Verge.