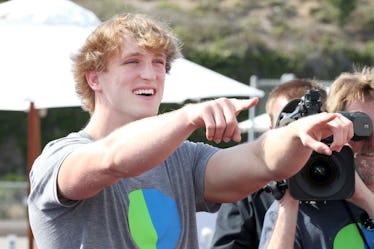 The Amount Of Money Logan Paul Made Off YouTube Is Straight Up Ridiculous
Frederick M. Brown/Getty Images Entertainment/Getty Images
If you thought that you couldn't possibly be more angry with Logan Paul, I'm sorry to say that you were mistaken. In the last few weeks, he's done nothing but offend people and put his foot in his mouth — but this time, it's not his words that are upsetting. The backlash he has faced has led us to wonder, "How much money has Logan Paul made off of YouTube vlogs?" The answer is a bit shocking.
According to Forbes, Paul earned $12.5 million in 2017. Yes, that decimal is placed correctly. Yes, I had to pick my jaw up off the floor. Paul started out on Vine, but successfully transitioned to YouTube and racked up a steady following. He's also garnered serious followings on Instagram and Facebook, and he even has his own clothing line, Maverick.
YouTube accounted for about a quarter of Paul's 2017 income, or around $3.25 million. For those who are unfamiliar with how YouTube advertising works, popular YouTubers make money on the platform through ads. To their credit, YouTube has removed Paul from Google Preferred, which will affect his income. However, even without Google Preferred, Forbes reports that he still would have made around $1 million from YouTube alone last year.
So why do we care? In early January, Paul posted a vlog of himself and a group of friends in Japan's Aokigahara Forest, commonly known as the "Suicide Forest." In the vlog, Paul and his friends stumble upon an apparent suicide victim and not only film the body, but also film their reactions to it, which include profanity, laughter, and making light of the situation with other visitors to the forest. The video received serious backlash, and Paul has since apologized and stepped away from social media.
To continue stewing in our outrage, let's look at the other ways that Paul makes money. He earns around $150,000 per Facebook post, and $80,000 per Instagram post, according to Forbes. His sponsors include HBO, Hanes, Bic, Dunkin' Donuts, Nike, Verizon, and Pepsi. It's unclear whether or not Paul will be dropped by any of these companies, but in the meantime, he's still raking in plenty of dough.
Paul's clothing brand, Maverick — which includes $100 backpacks — also brings in millions of dollars per month, Forbes reports. And while many people have criticized Paul over the last few weeks, plenty have come to his defense and pledged their allegiance to him, suggesting that Maverick will continue to thrive.
While it is true that many influencers make unimaginable amounts of money for their content, this becomes problematic when they neglect to use their platform responsibly. Not only did Paul post the incredibly insensitive video, he also delivered two incredibly tone deaf apologies.
In his first apology, Paul blamed his actions on the fact that he's "made a 15-minute TV show every single day for the past 460+ days." The apology did not include any mention of the victim, the victim's family, or the people of Japan, but did end with "I'm out here. Peace," followed by the peace sign emoji and the hashtag #Logang4Life.
His second apology was a two-minute video which did mention the victim and their family — however, critics remained outraged, as Paul reportedly made $12,000 off of the video.
Following his departure from social media, another upsetting video surfaced. An unknown source combined multiple clips to create Paul's Japan vlog compilation, which includes tons of disrespectful behavior, including throwing stuffed Pokéballs at unsuspecting pedestrians and vehicles, and terrorizing people with whole, uncooked fish purchased from a market.
Despite all of this, his father, Greg Paul, has assured fans that his son will vlog again.
Check out the entire Gen Why series and other videos on Facebook and the Bustle app across Apple TV, Roku, and Amazon Fire TV.