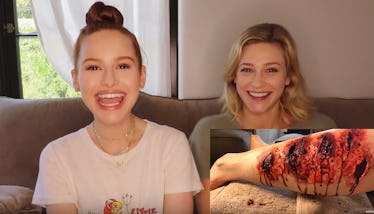 Lili Reinhart Gave Madelaine Petsch A Scarily Realistic Shark Bite Using Makeup & I'm Shook
Madelaine Petsch/Youtube
If you're a diehard Shark Week fan like me, you know we're only a few weeks away from seven days chock-full of enormous sharks, massive teeth, and scary survivor stories featuring shark bite souvenirs. To hold me over until the iconic event begins on July 22, the cast of Riverdale is hard at work keeping me entertained with some unexpected shark content of their own. When the video featuring Lili Reinhart's shark bite makeup on Madelaine Petsch's leg first popped into my YouTube subscription box, I knew right away it would be incredible, and here's why.
I have never stanned someone so hard after just a couple of seasons, but I feel confident declaring that Lili Reinhart is the ultimate cool-girl of 2018. While her Riverdale persona, Betty, is known for her prim and proper wardrobe and polished ponytail, Reinhart is real, relatable, and effortlessly cool. She doesn't rely too heavily on her social media platforms, but when she does treat us to a look inside her life, it's almost always exactly what I was hoping for. Remember the time she posted on Instagram about her acne struggles? Iconic. What about her Grace Kelly-inspired photo tribute on the 'Gram? There is nothing this girl can't pull off. I rest my case.
While Reinhart tends to keep her private life a touch more private, the lovely Madelaine Petsch keeps fans up to date with regular videos on her YouTube channel, which currently boasts 2.2 million subscribers. Leave it to Cheryl to become queen of the internet, am I right?
While Petsch is a total delight on her own, her channel is especially great thanks to regular features from her Riverdale co-stars. It's exciting to see them step out from behind their characters and interact as IRL friends, and they've all got fun personalities. Who wouldn't get a kick out of watching Camila Mendes (aka Veronica) and Hart Denton (aka Chic) take quizzes to see if they match up with their Riverdale personas? It's content gold, and Petsch regularly blesses her viewers with peeks into these more-than-on-screen friendships.
While Mendes is a regular on the channel, Reinhart has only made a handful of super quick appearances in vlogs and such, which led fans to ask for a dedicated video. Well, ask and ye shall receive, because the Riverdale babes are generous! (TW: Gory faux-wound below.)
Petsch and Reinhart didn't just present fans with a standard Q&A or routine challenge video — instead, we got this:
OK, wow. I'm grossed out, but somehow equally impressed? And fascinated, to say the least. As her welcome-to-YouTube appearance, Reinhart shows off her special effects makeup skills by creating the above shark bite wound on Petsch's leg. Go big or go home, as they say.
You're probably wondering, "How does Lili know how to do special effects makeup?" Well, like I said earlier, there's nothing she can't do. But Reinhart actually admits in the video that she learned her skills from watching YouTube — how full circle! There are quite a few special effects makeup artists posting to the platform, including the well-known Mykie of Glam&Gore, whose channel currently has 2.8 million subscribers. Clearly, Reinhart isn't the only one who is a fan of this stuff.
According to the girls, who hinted at just having received the season 3 Riverdale pitch (!), Petsch has been wanting Reinhart to go full gore on her for some time and is a big fan of her special effects skills. Reinhart says she chose a sharkbite as the perfect wound to "inflict" (painlessly!) on Petsch because it felt like an on-brand choice for summer, and because she'd never done it before. She does warn that it will in no way be medically accurate. Fair enough!
Since it's not a true tutorial, Reinhart doesn't list every product she uses to achieve the final wound, but she does do her best to show the process step by step. She begins by using what is most likely some kind of wax or spirit gum (often used for special effects makeup and prosthetics) to create the overall shape of the tooth marks on the leg, which she then paints red.
Next, she lifts up the faux-skin a little as if to open the wounds. I know it's not real, but it still kind of freaked me out a bit. The word "fleshy" was used, which is almost as bad as "moist," IMO. She then takes a product called 3rd Degree ($35, amazon.com), which is used to create silicone, flesh-like prosthetics and adds more texture to the wound. The duo then proceed to rip up and strategically place pieces of cotton throughout the wound to amp up and vary texture throughout. It's all about the details, apparently.
At this point, the girls pause to discuss a previously shared hobby: jewelry-making. Apparently, they went all out and bought a ton of supplies and tools to make necklaces while on set, which is so cute — why aren't they for sale? Petsch says that, apparently, when someone loses a crystal, it's because they no longer need its help, to which Reinhart replies, "Well I haven't lost any of my crystals, so looks like I'm a f*****." Again, I cannot stress how much I stan her.
Next, Reinhart whips out the Skin Illustrator NYU Custom FX Palette ($80, ppipremiereproducts.com), a pricy professional makeup artist color palette she says she bought especially for the video. We love a prepared queen! It's activated with isopropyl alcohol, and she adds that they actually use it on set to cover up tattoos as well. For the wound, she uses it along with a Ben Nye Color Wheel ($15, stagemakeuponline.com) to add color and depth via reds and blacks.
Some Cinema Secrets Blood Gel ($6, camerareadycosmetics.com) is up next, and the finishing touch on their gory masterpiece? A good old-fashioned Bottle of Blood ($7, spencers.com), natch. And with that, the ~lewk~ is complete!
Once the wound is complete, Lili then removes it with a small spatula, which is both oddly satisfying and sort of grotesque, so I'll spare you the screenshots and let you watch for yourself, should you feel the need:
Gross, right? But so, so good.
All in all, it was very cool to see Reinhart's special effect skills in action, but the best part of the video was seeing how these equally fab young women interact in real life. They're both spirited and funny, always cracking jokes or quoting their favorite movies. They're definitely the kind of girls I'd want to hang out with — you know, so long as the whole shark bite thing isn't a rite of passage to be Reinhart's friend... because after this video, I never need to see a Bottle of Blood again, thanks.