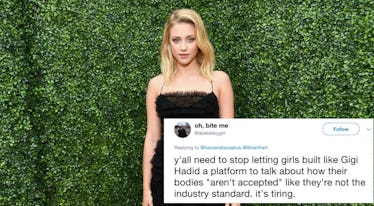 Lili Reinhart Blasted Trolls Saying She Shouldn't Feel Insecure With An Epic Clapback
Emma McIntyre/Getty Images, Twitter
Lili Reinhart is not one to sit idly by when Twitter trolls try to come for her. The Riverdale star has been very open about her body image issues, and recently spoke about how Marilyn Monroe's curvier frame actually helped her to better accept her own body. Well, some commenters were not happy about those comments, but Lili Reinhart's response to trolls saying she can't be insecure because of her body was absolutely perfect, and it was also an incredibly informative lesson in how body dysmorphia is perpetuated in our society.
Earlier this week, Lili Reinhart spoke about her struggles with body image in a profile with Harper's Bazaar. In the interview, Reinhart spoke about the hypocrisy she sees within the culture of Instagram, in which users love to post messages of self-acceptance about pimples or larger waists but then the most-followed and celebrated people on the site reflect the industry's often unattainable accepted beauty standards. She also spoke about her experience with depression and anxiety, another topic that she has been very vocal about online and in interviews since landing her leading role on Riverdale. She said that her open discussion about mental health issues has been one of the things her fans most often thank her for, and that she wants to continue to better inform people about the day-to-day aspects of depression.
During her photoshoot for the interview, which was inspired by old Hollywood glamour, Lili Reinhart confessed that Marilyn Monroe is an inspiration to her in terms of her body dysmorphia. She pointed out that Monroe's body was considered large at the time, but still desirable and confident. But when Harper's Bazaar tweeted Reinhart's quote out, one Twitter user got upset that a woman with Reinhart's relatively thin frame would complain about having body image issues.
Lili Reinhart noticed the comment, and took the time to educate the commenter and anyone else who feels the same way about how toxic it is to invalidate somebody's insecurities. In a series of tweets, Reinhart explained that body dysmorphia is a mental illness that can affect people of any body type, and that shaming people into being quiet about these body image issues is part of what makes them worse. She ended with the perfect piece of advice for all those people out there who also thought that a thin girl should not speak out about body image issues: "You may not understand someone's insecurity, but respect it."
Check out Lili Reinhart's full Twitter thread below:
This is not the first time that Lili Reinhart has called out damaging behavior online when it comes to body image issues. Back in March, Reinhart and her Riverdale co-star Camila Mendes called out Cosmopolitan Philippines for publishing retouched photos of the stars that dramatically decreased the size of their waists. The two actresses made a point to share the non-retouched photos of themselves and clarify to their fans that they did not approve of the magazine altering their images.
In another instance in May, rumors started cropping up online that Lili Reinhart was pregnant after a photo of her with her stomach showing popped up online. Reinhart squashed the pregnancy rumors and turned it into another opportunity to school her fans on body positivity. She wrote that she, like everyone, experiences bloating, periods of weight gain, and just has unflattering photos taken of her sometimes, and stated, "My body is something I will NEVER apologize for."
Thanks to her passionate devotion to the cause, Lili Reinhart has now become one of the leading voices in body positivity and mental health for the younger generation, and it is clear that she will continue to fight against stigma and shame whenever it pops up online.