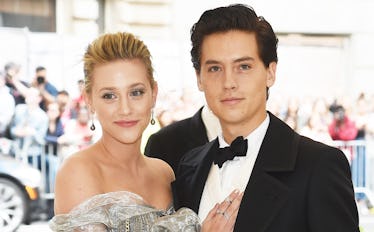 Lili Reinhart Just Admitted She's In Love With Cole Sprouse In The Most Mysterious Way
Jamie McCarthy/Getty Images
Lili Reinhart has never been into the fame side of her career. Ever since shooting to stardom thanks to Riverdale, the 21-year-old actress has made a point to remind fans in her interviews, social media posts, etc., that actors don't owe anyone any parts of their lives just because they're famous. It's the classic question about fame: Do celebrities sign away their right to privacy when they become famous? No. And Reinhart is dedicated to making that fact understood. In a recent interview with Harper's Bazaar, the Riverdale star got real about her privacy and Lili Reinhart's comments about Cole Sprouse fall right into that category.
Reinhart and Sprouse have never flat-out confirmed their relationship. There's been no quote, tweet, post, what have you to confirm that they're together. They've kind of just let that fact be obvious with their social media posts, vacations together, and their rare joint public appearances like the 2018 Met Gala. Reinhart made it clear in her Harper's Bazaar interview that that will remain the case for the foreseeable future, but she also inadvertently revealed a sweet fact about their relationship.
She first told a story about a time she and Riverdale co-star Casey Cott had a not so great experience with fans at a Broadway show. When the fans politely asked to take a photo with them, Reinhart and Cott politely said no. That upset the fans. She said,
They said, 'Why do you hate your fans?' ... That felt like the most dehumanizing thing. I see them saying, 'Your fans are what make you,' and I appreciate the love and support. But you have to understand that I'm not on 100 percent of the time. And I shouldn't be expected to be.
Reinhart extended this to her love life, saying, "I don't act to be famous. I'm just a performer." She continued, "I'm not OK talking about my relationship. I'm not going to tell you my love story. That's just not appropriate right now." Love story?! Be still, my beating heart. Does this mean Reinhart and Sprouse are in love?! Ugh. How sweet.
Sprousehart 4 ever.
She also talked about the difficulties that lie in trying to choose every public word carefully in order to mitigate misinterpretations. "I had said a lot of things right in the beginning of Riverdale coming out that people took the wrong way," she told the outlet. "I had to be like, 'No, no, no, that's not what I mean' and backtrack a little bit."
Reinhart continued,
We are in a time where people are insulted by everything. If it's something that I'm passionate about, I'm going to talk about it. I'm going to say that I don't approve of our president, I'm going to say that I don't approve of a lingerie line only having skinny models.
She really just wants people to understand that being famous doesn't place you above anyone else. "My life is not glamorous," she said. "I do glamorous things."
She added,
I'm not that flawless image person. I could never live up to that. I'm not going to make people think I'm this airbrushed version of myself. There are lots of versions of me. My hair looks like sh*t most of the time. It looks great when I'm on a carpet, sure, but that's not the only side I want people to see of myself.
Reinhart said that rolling with the punches of fame has been difficult for her. She admitted that the "speculation" about her life really gets under her skin sometimes. "Am I pregnant? Am I dating someone? Am I gay? Am I gaining weight? Am I homophobic?" she said. "People will always have something to say. I've accepted that. It doesn't mean it's not frustrating when people say those things. It's not like it just rolls off my back."
Even if Reinhart doesn't think she's handling fame all that well, her track record of calling out the BS side of fame is pretty impressive.