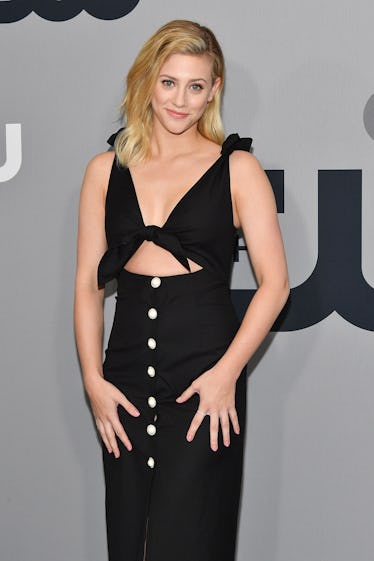 Lili Reinhart Blasted Pregnancy Rumors With The Most Powerful Body Positive Message
Dia Dipasupil/Getty Images Entertainment/Getty Images
I'm going to bet that you, dear reader, have had at least one day in your life where you've felt less than your best about your body. Maybe you're bloated, maybe you just ate a delicious meal of gigantic proportions — we've all been there (and sometimes more than once). Now imagine that, on that particular day, you've got paparazzi photographing your every move. Sounds pretty awful, yes? Well, that's precisely what happened to Lili Reinhart, and let me tell you, she was not having it. Fans speculated that she might have a bun in the oven after one particular image of her made its rounds on social media, and Lili Reinhart's response to pregnancy rumors was the most epic body-positive clapback of all time.
Over Memorial Day weekend, the Riverdale actress was spotted with boyfriend and co-star Cole Sprouse. I'm just going to go out on a limb here and say there was probably a ton of celebrating going on, with good food, good drinks, and a general IDGAF attitude, because hello, it's a holiday. Holidays are meant for eating delicious things, and you can fight me if you think anything otherwise.
The snapshot of the Riverdale couple circulated around social media, causing many fans to question if Reinhart was expecting:
But if you've seen the picture, then perhaps you're like me, and are seriously questioning how these people think that Reinhart is pregnant. She looks like a damn dream, and if a teeny, tiny, microscopic ounce of flesh on your stomach is considered looking pregnant, then fam, I must be carrying triplets.
Reinhart didn't hesitate to deliver the ultimate clapback in the form of a powerful post to her Instagram story on Monday, May 28. In a series of text posts, she wrote, "It's unfortunate that one unflattering photo of my stomach circulating the internet causes hundreds of people to think that I'm pregnant."
She continued, writing, "Nope. Not pregnant. This is just my body. And sometimes I'm bloated. Sometimes an unflattering photo is taken of me. Sometimes I go through periods of time where I gain weight."
Yassss, girl! It's so refreshing to hear a celebrity who so many people perceive as perfect to be candid about the ups and downs of her body image.
Reinhart then said that she'd "never apologize" for her changing figure, writing, "My body is something that I will NEVER apologize for."
Preach.
Her last slide of text read, "My body will constantly go through change. And so will yours. And that's fine. So let's not put so much time and effort into caring about a stranger's figure."
Then, she finished off in quite possibly the coolest way:
GOD BLESS LILI REINHART, Y'ALL.
All of this comes just one week after Reinhart opened up about living with cystic acne, and was very candid with her fans about trying to stay positive during the times where she's having a bad breakout. She took to Instagram stories to explain, writing,
I have a cystic acne breakout on [my] forehead currently. And I had to do a photo shoot all day long ... 20+ people were studying my face on the camera monitor at any given time during the 11 hour shoot... and all I could think about when I was in front of the camera were the pimples on my forehead.
She continued, saying,
I'm not sure if or when I'll ever be able to accept my skin as it is. It's problematic. It scars easily. It's painful. But I'm hoping that someday I can feel beautiful even if I'm having a breakout.
Can we all just give Reinhart a round of applause for being so open and honest about her imperfections? Because we're all human, and we all deal with our own issues, but having someone like Reinhart talk about her own makes it easier for others to be less harsh on themselves.
So thank you, Lili, you are perfect in our eyes.
Do your thing, boo. We love you for it.