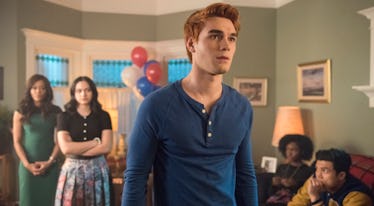 This 'Riverdale' Season 3 First Look Suggests A Possible Time Jump When The Show Returns
CW
We are finally getting our first details about the upcoming season of Riverdale, and it looks like things are going to be getting litigious right away in the premiere episode. Showrunner Roberto Aguirre-Sacasa shared a Riverdale Season 3 first look of the premiere episode, revealing its title and some details about how the new season will kick off.
Aguirre-Sacasa posted the cover page of the Season 3 premiere script to Twitter on Wednesday afternoon, and the episode title has some fans thinking that there might be a pretty sizable time jump between the Season 2 finale and the Season 3 premiere. The new episode will be entitled "Labor Day," and it will focus on Archie Andrews' court case following his shocking arrest in the Season 2 finale. In case you forgot, the previous season ended with police officers arresting Archie in front of all of Riverdale High, charging him with the murder of Shadow Lake resident Cassidy Bullock. Of course, Archie and the rest of us all know that he did not kill Cassidy — the real murderer was Hiram Lodge's right-hand man Andre, but since Archie was the only one to witness the murder, it was easy for Hiram to frame Archie for the crime.
Since the episode title is "Labor Day," it sounds like Season 3 will jump forward in time from the second season finale a few months. The final few episodes in Season 2 took place in the spring of Archie and crew's sophomore year at Riverdale High (I know, it is ludicrous that they are sophomores), but if the Season 3 premiere takes place on Labor Day, then the show will fast forward through the summer and pick up at the beginning of the characters' junior year.
So, what could this time jump mean? Well, considering Archie's arrest happened right at the very end of Season 2 and Season 3 is starting off with his trial, it looks like Archie will have been in police custody throughout the summer leading up to his murder trial, but we are going to skip over that jail time. Of course, if Archie loses his case, then we will be seeing him in prison after all, which could potentially lead to a run-in with Hal Cooper, who is newly locked up after being found out as the Black Hood.
As of right now, this title page is pretty much the only thing we have to go off of about Season 3 of Riverdale, although it was also recently revealed that the series will be bringing in a mysterious new character when it returns. The show is reportedly casting a part inspired by the Archie comics character of Evelyn Evernever, and the character description teases that she will be Betty's odd new neighbor who develops a creepy fascination with her. The description definitely seems to be suggesting some sort of Single White Female storyline with Betty and Evelyn, and it is also possible that Evelyn could be a member of Polly Cooper's cult that she is inviting to town in the new season.
But the focus of the Riverdale Season 3 premiere looks like it will be predominantly on Archie Andrews, which makes sense after he was at the center of the Season 2 finale cliffhanger. Archie is going to have a tough time proving his innocence in court after all his friends saw him chase after Cassidy right before his death, and were never made aware of the fact that Andre was hiding out in the woods to watch over them. And of course, Hiram is the person responsible for it all.
Season 3 of Riverdale will premiere on the CW on Oct. 10, 2018.