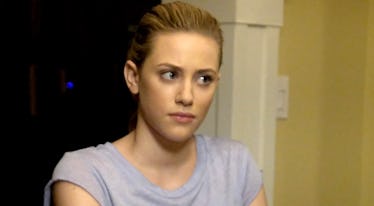 'Riverdale' Season 3 Is Casting An "Odd" New Character Who Will Have A Big Impact On Betty
CW
There is going to be a creepy new face in town when Riverdale returns for its third season... and no, I'm not talking about Sabrina Spellman. Riverdale producers are reportedly casting a brand new role for the upcoming third season, and it is a character from the Archie comics that fans were most definitely not expecting to see on the show. So let's get into everything we know about Riverdale Season 3 casting an odd new character, and how her arrival will shake things up for everyone.
Season 3 of Riverdale is bringing in the character of Evelyn Evernever in a recurring role, according to a report from The Hashtag Show. This will come as a bit of a surprise to anyone familiar with the Archie comics that the CW series is based on, since Evelyn Evernever is much more associated with the Little Archie comics when the main cast are young children than the teenaged comics. However, Evelyn did make a notable appearance in the Betty & Veronica comics, in which she kidnapped Archie.
From the character description, it sounds like the Riverdale version of Evelyn Evernever will definitely lean more to the creepy side, possibly even vaguely threatening. The casting call describes the character as "otherworldly, seemingly omnipresent, and a bit odd," and reveals that she will be Betty Cooper's new neighbor.
[EVELYN EVERNEVER] Female, Late Teens – Early 20's to play Late Teens, Open Ethnicity. Otherworldly, seemingly omnipresent, and a bit odd, Evelyn is Edgar's daughter and Betty's new neighbor. She's eager to befriend Betty, and is surprisingly insightful for her age, but may be hiding dark secrets about herself. (While not required, a possible direction for the role is a girl who is physically reminiscent of "Betty".) MAJOR RECURRING GUEST STAR.
As is a prerequisite for every Riverdale character, the description also mentions that Evelyn Evernever might be hiding some dark secrets. You are probably already inferring a lot about what Evelyn's role will be in the new season from this description — it definitely sounds like Evelyn is going to become some sort of obsessive stalker to Betty, possibly even getting to scary, Single White Female levels, as hinted at by the casting announcement stating that they may be interested in actresses who resemble Lili Reinhart. There is also the possibility that Riverdale may replicate Evelyn Evernever's arc in the comics and have her kidnap Archie in the show.
And of course, we cannot forget about Polly Cooper's weird, mysterious cult that is heading to town in Season 3. One of the most unsettling parts of the Season 2 finale was Polly convincing her depressed, emotionally drained mother Alice to let her invite a friend from her time at a place known only as The Farm to come and stay with them. Polly gave birth to and has been raising her twins at The Farm throughout Season 2, and Betty has expressed her fear that the mysterious compound could be a cult before, but we still have not gotten any information about it yet.
Since Evelyn Evernever and her father Edgar are moving in next door to the Coopers, it is possible that they could be the friends from The Farm that Polly was referring to at the end of Season 2. If that is the case, then fans can expect this newly arrived cult to probably become one of the central elements of the new season, similar to how the Black Hood became the main mystery of Season 2.
Riverdale Season 3 will premiere on Wednesday, Oct. 10 at 8:00 p.m. ET on the CW.