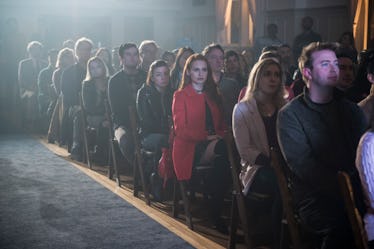 Here's What 'Riverdale' Fans Should Know About Evelyn Evernever From The Archie Comics
The CW
Riverdale ended Season 2 on a terrible note: Archie Andrews arrested for a crime he didn't commit, framed by his girlfriend Veronica's own father, Hiram Lodge. Fans assume this means Season 3 will have a Lodge family focus, with Hiram at the forefront, trying to take control of the entire town over the course of the next season. But will new characters arriving for next year to stop him? Both Vanessa Morgan (Toni Topaz) and Charles Melton (Reggie Mantle) are being promoted to series regulars. And now Evelyn Evernever is coming to town. Who is Evelyn Evernever? She actually comes from the Little Archie comics.
The wiki blurb for the Little Archie comics describes Evelyn thusly:
A young girl who was acquainted with Archie and friends when they were young. Evelyn was a shy girl with a bit of an inferiority complex, with tenuous relations to the rest of the gang. Her only real friend was her doll, Minerva. Evelyn Evernever likes to think of herself as a "bou'tiful" gal.
Evernever did eventually get promoted to the teenage comics, appearing in Betty & Veronica Spectacular. In flashbacks, she was revealed to have been Archie's first kiss, long before Betty or Veronica ever arrived on the scene. She's usually drawn with a blonde bob and has a large bow in her hair.
But this being the "darker, edgier" and far more insane version of the Archie Comics, the description That Hashtag Show dug up for the new version of Evelyn is nothing like one might expect.
"[EVELYN EVERNEVER] Female, Late Teens – Early 20's to play Late Teens, Open Ethnicity. Otherworldly, seemingly omnipresent, and a bit odd, Evelyn is Edgar's daughter and Betty's new neighbor. She's eager to befriend Betty, and is surprisingly insightful for her age, but may be hiding dark secrets about herself. (While not required, a possible direction for the role is a girl who is physically reminiscent of Betty.) MAJOR RECURRING GUEST STAR."
The only part of this which matches the original is the "physically reminiscent of Betty" bit. Evelyn is a little bit of a Betty prototype in the Little Archie comics, so a grown-up teenage version for the series would not be wrong to cast her as a bit of a Betty clone.
That being said, note the casting call is open ethnicity, so really, anything could happen.
ComicBook.com also notes the time Evelyn did turn up in the Betty & Veronica Spectacular, she actually was pretty off her rocker.
Evelyn is a shy girl most prominently known for her appearances in the Little Archie series, as well as an issue of Betty & Veronica Spectacular where she kidnaps Archie... If Evelyn does end up coming to Riverdale, she would be the latest Little Archie character to make the jump into live-action. The past two seasons have introduced fans to reimagined versions of Fangs Fogarty (Drew Ray Tanner) and Penny Peabody (Brit Morgan), Polly (Tiera Skovbye) and Chic (Hart Denton) Cooper - and, of course, the Southside Serpents.
Considering how popular kidnapping is in Riverdale, it seems like Evelyn could keep this trait and fit right in. But then there is the description of this new version of Evelyn as "otherworldly, seemingly omnipresent."
As most Riverdale fans know, originally Sabrina the Teenage Witch was supposed to start out on Riverdale and then move to her own series. But instead of being picked up by The CW where they would be companion shows and cross over easily, the show went to Netflix, preventing any Sabrina cameos. Is Evelyn's "otherworldly" character a bit of a Sabrina substitute?
Fans will find out when Season 3 of Riverdale premieres on The CW on Oct. 10, 2018, at 8 p.m. ET. Until then Riverdale Season 2 is streaming on Netflix.