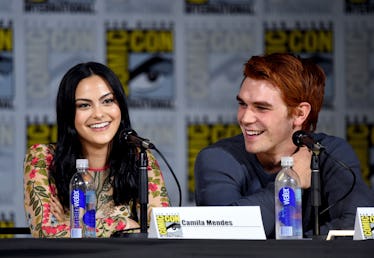 KJ Apa & Camila Mendes' Quotes About Each Other Will Make You Wish 'Riverdale' Was Real
Mike Coppola/Getty Images Entertainment/Getty Images
Cole Sprouse and Lili Reinhart's IRL coupling has us spoiled. A few sweet Instagrams, some Paris PDA, and that awww-inspiring Met Gala debut later, all I can hope is that KJ and Camila take a cue from their co-stars playbook and make their scripted romance a reality. After premiering on the comic-inspired CW sensation Riverdale in 2016, the series (and pair themselves) quickly garnered a dedicated following. And the majority can't seem to help but ship a little Veronica/Archie loving off-screen. While, KJ Apa and Camila Mendes' quotes about each imply there's something between the cast mates, it may just be super tight friendship vibes. Despite plenty of speculation surrounding the duo's status, for now, things remain platonic. Reportedly.
Opening up about their bond to Teen Vogue, Apa was clear that the pair's off-set friendship plays a major role in their work life:
Me and Cami are really good mates and I think the writers keep giving us more and more cool stuff to work on. I think [the storylines] kind of make [Archie and Veronica] even closer than what they were. [It's] not really something we need to work on; we're pretty much there [already] when we're on set.
While their red-hot chemistry has certainly ignited the rumor mill, it was a 2017 social media pic that kicked off questions about their relationship. After KJ Instagrammed a cozy shot of the pair alongside his "parents," things looked serious. Already time to meet the Apa's, huh Cami? However, fans quickly chimed in to debunk the gossip. The woman pictured next to Mendes is actually her agent *sigh*. But nonetheless, the "my sister is so annoying omg lol smh" tease is pretty adorable.
KJ's Instagram joking (flirting?) didn't end there. Alongside Camila and fellow co-star/BFF, Sprouse, Apa captioned another IG pic, "my brother from another mother and cole." I will admit, the continued sibling references are maybe not the best sign of a budding romance.
Then again, KJ doesn't seem to hate filming his more *clears throat* intimate scenes with Mendes. Speaking to Cosmopolitan, Apa admitted:
It's weird [filming sex scenes] with someone you don't know that well. On a movie set, you have time to get to know the person and rehearse before shotting. [Mendes] and I just had to dive into it. Now that we're friends, it's easier.
In fact, "easier" sounds was more like an understatement. "It was really fun," Mendes admitted of their sultry season 2 shower scene. "It's kind of funny playing a scene like that and having a whole camera crew like, right around you, but KJ always makes it so funny that it's a blast."
Although filming wasn't exactly seamless — Apa confessed that it was "slippery" and difficult to make out in the water — KJ and Cami were giggling the whole way through. "We would just start cracking up laughing because none of [the crew members] were allowed to look at us while we were unclothed."
Sidenote: I really just need Reggie (Ross Butler) to not be third wheeling Veronica and Archie in this fire Insta. Thanks.
While, I'm clearly invested in Apa and Mendes' sweet friendship (maybe, eventual, someday relationship?), Sprouse reminded fans to slow their roll when it comes to their favorite stars' relationships. He told Entertainment Weekly:
Since the show began, people have wanted Lili and I to be together. People have wanted Lili and Cami to be together. People have wanted KJ and I to be together. People have wanted every actor on this show to be in a union that they could make real and talk about. So I think that kind of discussion, especially because it's based so much on rumor and hearsay, needs to be taken with a grain of salt.
Although him and Reinhart did wind up together, he's right. I can keep on shipping, but maybe hold out for the official confirmation before getting overexcited. After all, IRL Bughead's couple debut didn't disappoint.