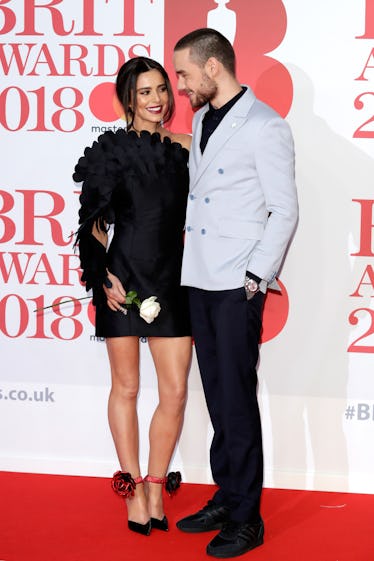 Cheryl Cole Dished On Her & Liam Payne's "Safe Word" & Liam's Face Was Everything
John Phillips/Getty Images Entertainment/Getty Images
My first introduction to kinky sex (or sex, in general, for that matter) was reading Fifty Shades of Grey on the beach while on vacation with my family. I learned lots of things from Christian and Ana's intense and unintentionally hilarious romance. For example, I learned what a "flogger" is. I learned what an "inner goddess" is. And finally, I learned that, before entering Christian Grey's red room, you absolutely must have a safe word. Even celebrities have their own safe words when they get their freak on. For example, Liam Payne and Cheryl Cole's safe word is... well, to be honest, it's a little confusing. (But then, again, their relationship obviously isn't Christian and Ana's.)
The former One Direction star and his longtime bae/mother of his child were hanging at the 2018 BRIT Awards this past Wednesday, Feb. 21, 2018. They were there because they're obviously a British celeb power couple, so... duh. But they were also in attendance because Payne was scheduled to perform at the ceremony. What song was he performing, you ask? His extremely steamy and, honestly, pretty romantic song song with Rita Ora entitled "For You." The song is featured on the Fifty Shades Freed soundtrack, so, yeah, I wasn't joking when I said it was sexy. And with lyrics like "Been breaking for a lifetime for ya/Wasn't lookin' for love 'til I found you," you can bet your bottom dollar it's also pretty dang romantic.
In light of the obviously ~sexy~ nature of the film his song is featured in, Payne and Cole got asked some pretty.... hmm, let's call them personal questions by the host of the BRITs, comedian Jack Whitehall.
First, Whitehall started off the interview by asking if "the little fellow is watching at home?" One would think he was talking about Payne and Cole's child, Bear, but instead, Whitehall pulled a classic joke any One Direction fan would be proud of when he revealed he was actually referring to Niall Horan, one of Payne's former bandmates and closest friends.
After he got the initial laughs from the Niall joke, it was time for Whitehall to pull out the big guns. "You're performing later, you're doing a performance from Fifty Shades of Grey movie [sequel—Fifty Shades Freed]," he asked the couple, sitting side-by-side at their table. "Sounds pretty saucy. Um, is there a safe word?"
While I, personally, would rather die than answer that question in front of the whole world (my dad included), Payne and Cole were happy to share. With a laugh, 24-year-old Payne responded to Whitehall, while pointing to Cole: "She knows that."
Without any hesitation, Cole answered that their safe word is — drum roll, please — "Don't stop." Saucy, indeed. Also, pretty confusing, if you ask me.
Now, stop everything you were doing and watch Payne's reaction when Cole says it.
His reaction is priceless, right?
According to Cosmopolitan, the couple was "first outed as secret lovers" in February of 2016. It's safe to presume they were dating before that. They also have a son, Bear, together, who will be having his first birthday soon on March 22.
Despite the obvious chemistry and the unabashed jokes, the couple has received some flack for their rather large age gap. (Payne is 24 while Cole is 34.) The two first met on the set of The X Factor UK in 2008 when he was 14, and she was 24.
In this first encounter, Cole was a judge while young Payne was a contestant. In the video of Payne and Cole on The X Factor below, Payne was described by the host as a "14-year-old schoolboy," and Cole responded to his performance by saying, "I like you, I think you're really cute."
It's not their age difference now that bothers fans so much as the fact that the two essentially met when Payne was just a child.
Some fans were surprised by the fact that the couple showed up to last night's award show together, as rumors of the two splitting had run rampant prior to the awards.
Cole, however, shut down rumors of a breakup soon after they began, claiming she wasn't bothered by them, according to E! News.
That all being said, the two definitely have some loyal fans rooting for their love.
But for those fans hoping for some nuptials between the couple, keep dreaming. According to Us Weekly, when Payne appeared as a guest on the Bizarre Life with Dan Wootton podcast in May 2017, he stated:
I see marriage as more of a religious thing and I'm not really a religious person, so I know it's not really in the cards for me at the moment. So no, not yet, unfortunately. We have a baby together. Our love for each other can't be more serious, so it is what it is I guess.
This isn't to say that they aren't still totally in love, of course. In a 2017 interview with Rollacoaster magazine, Payne gushed:
This is the thing: In a non-cliché way, it's weird waking up every day and living out your dream. You wake up in the most beautiful places. Obviously I have the most beautiful girlfriend in the whole world and she's absolutely amazing.
So, yeah, I'd say the age gap isn't doing anything to salt their romance. He's totally in love with her, and she never wants him to stop boinking her. Life's good for little Bear's mummy and daddy.
Check out the entire Gen Why series and other videos on Facebook and the Bustle app across Apple TV, Roku, and Amazon Fire TV.
Check out the "Best of Elite Daily" stream in the Bustle App for more stories just like this!