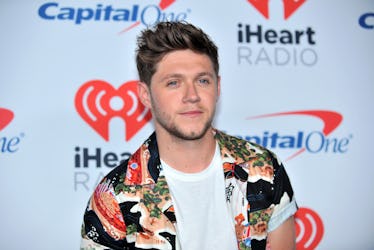 Is Niall Horan Single? Fans Are Wondering If The Star Is Off The Market
Sam Wasson/Getty Images Entertainment/Getty Images
We all know Niall Horan is arguably the most drool-worthy member of the band that was once One Direction. OK, yes, Harry Styles is super-talented and pretty damn cute, and Zayn Malik is also pretty hot (and don't worry, Louis and Liam, I'm looking you up and down, too). Basically ALL of the One Direction band members are looking mighty fine these days. But Niall is sort of killing it in a way that the others aren't (I mean, have you heard his new single, Too Much To Ask?), which begs the question: is Niall Horan single?
The Irish beefcake seems to stay pretty low-key when it comes to his dating life, but the media has a way of finding these things out regardless of how private a celebrity tries to be. But with Horan, things seem to be a bit... murky. Because on one hand, it seems as though he's single and ready to mingle, but on the other hand, it looks like he *could* have a secret girlfriend (or two).
Let's all put our investigator caps on and jump into the world of online sleuthing, shall we?
Rumor A: Niall Horan is dating Lily Collins
This rumored love affair all began when Horan went on Spin South West and was asked who his dream celebrity date would be, and he said "Lily Collins."
CUTE!
She must have heard through the grapevine, because soon after, Collins started liking Horan's photos on Instagram, and fans started to take notice:
But it looks like Niall took his shot and missed, because it seems like there hasn't been many more updates to this possible relationship – which, let's be honest, would be adorable in pretty much every way. Unfortunately, it looks like "Nially" won't be a thing, ever.
Conclusion: sorry guys, I'm going to debunk this rumor.
But as I previously mentioned, there's another fine lady out there that may very well have Niall's attention.
Rumor B: Niall Horan is dating Olympia Valance
Aside from having a really cool name, I didn't really know exactly who Olympia Valance was. Apparently, she's a model and an actress, and after a quick Google search, I see that she has several abs, so automatically I'm impressed.
So, is this pairing true love?
According to The Scottish Sun, hell yeah it is! In an interview with the magazine, Valance says:
We just met in Australia and we've been messaging ever since and yeah we have hung out together a bit ... "We are quite close. I see him when I come to London and he sees me when he's in Oz.
Ooh, ~quite~ close you say?
Can't blame you, girl. Look at that mug.
So, it seems like maybe this is the real deal, right?!
WRONG.
Further into the interview, Valance says:
I am single at the moment. I've been single pretty much all this year and it's been really nice ... I've always had problems being on my own before and now I'm actually like, I really love this and just not having anyone to answer to.
Huh? Here's my take on this: are the two in a relationship together? Probably not. Are they maybe seeing each other because they're both really, really, ridiculously good-looking and can have a no-strings fling behind the media's back? Absolutely a possibility.
Conclusion: not too sure on this one, but I'm going to go with no, the two aren't in a secret relationship.
So, because Niall has technically not confirmed any sort of relationship with any woman, it looks like we've come to the conclusion that...
Niall Horan is *probably* single?
Look, nobody knows Niall's dating life unless you're him or the girl he's hooking up with. (And if you're out there, I'd REALLY like to know how you made it happen. Asking for a friend.)
If it's one thing Niall is really good at, it's giving mixed signals though, because in an interview with Bizarre Life, he admits that his debut album, Flicker, is about someone in particular:
It is written about one person. Most of it is. There's obviously songs that are not particularly about anything, just scenarios I've made up in my head or situations I've seen among my friends ... But yeah, for the most part it's about that one person.
However, he flip-flops back and addresses that it's not about a current girlfriend, adding, ""I'm single now, yep. Yep. Extremely single."
CAN YOU MAKE UP YOUR MIND, NIALL?
I guess we can conclude that Niall is still single, sort of, but may be secretly dating someone, sort of.
Until we find out more information, I think I'm just going to Google which of the other One Direction members are currently available. For a friend, obviously.