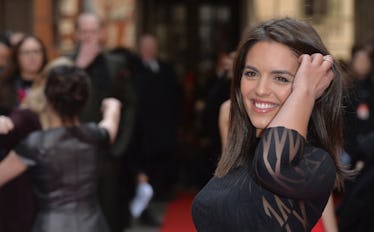 Niall Horan Is Reportedly Dating This Actress & Fans Are Freaking Out On Twitter
Anthony Harvey/Getty Images Entertainment/Getty Images
Does Niall Horan have a girlfriend? The rumor mill is working overtime, as the former One Direction star is reportedly dating an Australian actress. But who is Olympia Valance?
A successful model and actress, Valance is best known for playing the role of Paige Smith on the Australian soap opera Neighbours. In 2016, Valance was signed to the same California-based agency that has Aussie actors Liam and Chris Hemsworth among its clients.
The Sun reports that Valance has confirmed her relationship with Horan, though neither has made anything official. Horan and the Neighbours star have reportedly gone on secret dates, with Valance telling The Sun:
We've known each other for a couple of years now. He obviously spends a lot of time in Australia with his cousins. We just met in Australia and we've been messaging ever since and yeah we have hung out together a bit.
She added, "We are quite close. I see him when I come to London and he sees me when he's in Oz."
While Valance didn't confirm that they're dating, people are connecting the dots, especially since she posted a pic of her and Horan in her Instagram story as a shoutout to the singer on his birthday. In the pic, the two lounge on the grass and she captioned it: "Happy birthday darlin @niallhoran."
The one thing Valance does confirm? She's single, as she told The Sun:
I am single at the moment. I've been single pretty much all this year and it's been really nice. I've always had problems being on my own before and now I'm actually like, I really love this and just not having anyone to answer to. Just being free is great and that's what I really want to be — just being a free spirit.
Horan recently indicated that he was far too busy for dating, telling Notion magazine: "I've been so busy between studios. The album was long days, as we recording everything live. We're talking 11-12 hour days every day which is like work, studio, home, bed, eat, you know, I have no time for Tinder."
Fans responded to the reports of Horan and Valance dating with a range of reactions on Twitter, including one fan who noted that nothing has been made official: "Olympia said they [sic] her and Niall hung out when he is in Oz and when she is in London and The Sun said they are dating when she didn't said anything about secret dates."
Another shared this non-reaction: "woman on the radio: 'hearts are breaking. niall horan is sort of dating this girl, she's an australian actress. of course, she's famous like him.'
me: *blinks*"
Another fan was definitely feeling a bit jealous all-around, tweeting: "So there's rumours that Olympia is dating Niall and I'm not sure which I'm more jealous of, I fancy them both."
Still another believes it's Horan's personal business, but issued this warning: "if niall's dating anyone then it's none of my business, unless you hurt him I'm gonna sue."
Other fans are totally into this pairing, with one tweeting: "if niall is dating olympia i will cry she is my absolute fav this would be AMAZING."
And this fan can't keep up with the rumors, noting: "Wasn't he dating Lily Collins last week."
True enough, that rumor floated after Horan told Irish radio station Spin South West (9:00 in video) that Collins is one girl he'd love to date. The actress then followed the singer on Instagram and liked some of his posts. At the time, one fan noted: "I always see Niall and Lily Collins liking each other's pictures, can they like get together."
I'll be keeping an eye on this latest dating rumor to see where it goes.
Check out the entire Gen Why series and othervideos on Facebook and the Bustle app across Apple TV, Roku, and Amazon FireTV.