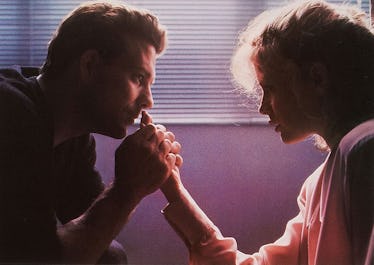 6 Steaming Hot Movies To Watch If You Died Over 'Fifty Shades Freed'
MGM/UA Entertainment Company
Erotic thrillers have always been my not-so-guilty pleasure. I grew up stealing my older sister's VC Andrews novels. (And if you haven't read those, gurl, they are freaky AF.) So if you went crazy for the Fifty Shades series, I totally feel you. Who doesn't want to watch a half-naked Jamie Dornan let his kink flag fly? Sadly, Fifty Shades Freed is very likely the last time we'll get to see Anastasia and Christian get it on, and while you can always go back and revisit it, you may be craving some other sexy movies to watch. The great news is, there are plenty to choose from, and any of them are a lot hotter and kinkier than Anastasia and Christian on their freakiest day. I know, blasphemy. But stay with me here.
While it may mean going all the way back to the — gasp — '80s, there are a ton of super hot and kinky movies that anyone who likes Fifty Shades is going to love. Some of these movies are romantic, some are a little scary, others are bittersweet, but what they all have in coming as that they are H.O.T. Warning, though: After watching all of these, you might think Fifty Shades is a bit too vanilla for you now.
1. Secretary
For a romantic movie that explores authentic BDSM, you can't beat Secretary. The story follows a young, awkward girl, who is hired by a powerful man named Mr. Grey (hmm, sound familiar?) and the two soon enter into a passionate dominant-submissive relationship.
2. The Handmaiden
This luscious South Korean erotic thriller (based on the novel Fingersmith by Sarah Waters, which is also amazing) is about a young pickpocket who is hired by a conman to help con a rich, young woman out of her inheritance. However, shortly after coming to the house, the two begin to form a romantic and sexual connection. This movie is twisty and sexy AF
3. 9 1/2 Weeks
It's very likely that this erotic '80s film was a big influence on Fifty Shades. It's about a powerful man and an artistic woman's chance meeting turning into an extremely passionate, sexually adventurous, and emotionally toxic affair. If you thought Fifty Shades was dirty, just you wait.
4. Cruel Intentions
Imagine if Gossip Girl was rated a hard R, and you'll have a good idea of what Cruel Intentions is like. It's a remake of the film Dangerous Liaisons (which is also pretty hot, by the way) but set in the Upper East Side of Manhattan in the '90s. It stars Sarah Michelle Gellar and Ryan Phillippe, who play step-siblings locked in a toxic and sexually-fraught dynamic. They like to make sexual wagers, but when one of them begins to fall in love with one of their conquests, things take a treacherous turn.
5. Bound
Fresh out of jail, ex-con Corky falls for Violet, the girlfriend of a mobster. Sparks fly (and it's f*cking hot!) and soon, they start cooking up a plan to double cross Violet's man, and ride off into the sunset together — with his money.
6. The Last Seduction
In many erotic films, women play a submissive role, which is fine if that's what they want, but this is not so in The Last Seduction. If what you are craving is a badass power top, then get ready. Linda Fiorentino stars as Bridget, a femme fatale who first double crosses her husband, and then, seduces a poor, nice, young man into getting rid of him. Like, I am not trying to say what she does in this movie is "right," but it sure is hot.
While it's no doubt Fifty Shades will always have a place in our heart (and spank bank), the series is really just the beginning when it comes to erotic films. Settle in for a marathon, and have fun!
Check out the entire Gen Why series and other videos on Facebook and the Bustle app across Apple TV, Roku, and Amazon Fire TV.
Check out the "Best of Elite Daily" stream in the Bustle App for more stories just like this!