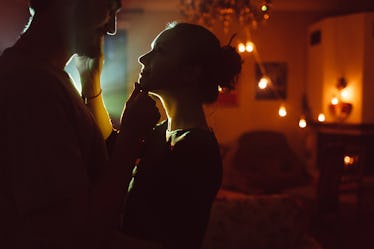 Set A Steamy Mood On Valentine's Day With These 7 Sexy Movies Streaming On Netflix
Sometimes you just want to watch a provocative movie in the comfort of your own home, and there's nothing wrong with that. Maybe you're looking for sexy movies on Netflix to stream with a date this Valentine's Day, or perhaps you'd rather have a solo viewing party to get you in the mood for some self-love. Unfortunately, it can be difficult to find a film that's both sexy and actually enjoyable. I'm sure you know the struggle of scrolling through Netflix all too well, especially when you're trying to choose along with someone else. You waste so much time browsing that by the time you make a selection, you could have already watched half of it.
So yeah, patience may be a virtue, but I'm doing my moral duty by blessing you with this shortlist of films. I'm making your life easier by cutting your search down to these seven great movie choices. So screw patience, because I'm giving you more time to screw. Each of these flicks has its own style, but they're all smart, sexy, and well-cast. You will see some familiar faces, but the storylines are undeniably fresh. Whether you watch for the plot or the sex scenes (ideally it's both), these movies guarantee a good time.
1. The Overnight
Orange Is The New Black's Piper Chapman (Taylor Schilling) is married to Parks and Recreation's Ben Wyatt (Adam Scott) — and they're getting into shenanigans that Leslie Knope would definitely not approve of. The Overnight is a quirky film about two couples who put their kids to bed and set out to enjoy a night of R-rated adult fun. This indie movie also stars Jason Schwartzman, who portrays a very well-endowed abstract painter (the actor reportedly wore a prosthetic penis for the part). The Overnight's premise seems simple enough, but this comedy still manages to surprise you.
2. The Little Death
The phrase "the little death," or "la petite mort" in French, refers to an orgasm. It sounds strange, but then again, so is this movie. The Little Death is an Australian film that follows five seemingly normal couples living in the suburbs. Over the course of the movie, the individuals reveal fetishes to their partners — and to the viewer. Rather than exploit the characters' sexual preferences, the film works to humanize the couples both in and outside of the bedroom. The Little Death tells a unique set of stories that range from slightly uncomfortable to surprisingly sweet.
3. For A Good Time, Call...
In For A Good Time, Call..., two women struggling to make ends meet decide to start their own phone sex line. What could possibly go wrong? Well, Justin Long is also involved, so probably a lot of things. Of course, the aspiring businesswomen end up getting more than they expected. They set out to earn cold, hard cash, but along the way they form an undeniable friendship... and maybe even find love. For a good time, call up someone you're sweet on and watch this movie together. You'll laugh, you'll cheer, and you'll definitely get in the mood.
4. Sleeping With Other People
Alison Brie and Jason Sudeikis star alongside a stellar cast — including Natasha Lyonne, Adam Scott, and Adam Brody — in this romantic comedy about two recovering sex addicts who swear they're just friends. Like most of the movies on this list, Sleeping With Other People is about more than just sex. Yes, you can expect a few sweaty, NSFW scenes, but this film will also hit you right in the feels. Of course, any movie led by Brie is pretty much guaranteed to leave you with a giant heart-on, and this one is no exception.
5. Magic Mike
If Channing Tatum dancing half-naked doesn't get you in the mood, I'm sorry, but I'm pretty sure there's no hope left for you. I can pinpoint his role in Step Up as a clear sexual awakening for me (and obviously for Jenna Dewan, too). Then Magic Mike came along to confirm my assessment that any man who can shake it on the dance floor can also be counted on to bring it in the bedroom. The plot of this movie isn't great, but let's be honest... we both know that's not why you're watching.
6. Ask Me Anything
Ask Me Anything follows Britt Robertson (Girlboss's Sophia) as she explores her sexuality and attempts to find herself before going to college. She gets tangled up in a web of sex, lies, and deceit — all of which she documents online. Say hi to Justin Long again, because he's in this one too. Minor spoiler alert: the ending is abrupt and doesn't really feel true to the rest of the film, at least in my opinion. You will Google it afterward and may come to a different conclusion. Either way, Robertson's performance is strong, and her character's story is worth watching all the way through.
7. Eyes Wide Shut
If you love the Fifty Shades series, you should give Eyes Wide Shut a try. This erotic Stanley Kubrick drama from 1999 stars Tom Cruise and Nicole Kidman as the OG sexually adventurous couple. The film has all of the elements necessary for a sexy movie night in. Besides the beautiful leading actors, there's a thrilling affair and a secret society, not to mention the masked orgy. Eyes Wide Shut provides over two-and-a-half hours of sex and secrecy that will leave your mind satisfied, but your body craving more.
Whether you prefer dark and dramatic or funny and flirty, set the right mood this Valentine's Day with one of these seven steamy flicks.
Check out the entire Gen Why series and other videos on Facebook and the Bustle app across Apple TV, Roku, and Amazon Fire TV.
Check out the "Best of Elite Daily" stream in the Bustle App for more stories just like this!