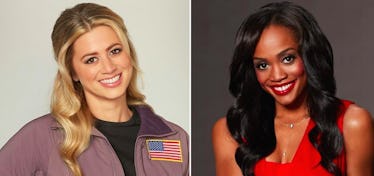 Lesley Low-Key Threw Shade At Rachel Lindsay On Twitter After 'Bachelor Winter Games'
The Bachelor Winter Games is in the middle of its first season, and fans are obsessed with it. Last night's episode was super dramatic, as it featured Ben Higgins voluntarily leaving the show because he's still heartbroken over his breakup with Lauren Bushnell. Lesley Murphy had a pretty dramatic night as well, as Rachel Lindsay was one of the judges of the kissing competition and Murphy's partner is Lindsay's ex. Awk. After the show aired, Lesley liked tweets about Rachel Lindsay on Bachelor Winter Games, and it's even more awkward than Rachel Lindsay, Arie Luyendyk Jr., and JoJo Fletcher judging a kissing competition starring their exes.
Lesley Murphy and Dean Unglert are one of the couples that paired up on this first season of Bachelor Winter Games. Their romance has been ~heating up~ lately, and the kissing competition proved it. Well, actually, Dean and Lesley did a dance routine before their kiss in the competition and it was extremely awkward. But they won the skiing competition earlier that day, so I guess you win some, you lose some.
Rachel Lindsay was one of the judges for the kissing competition, and fans on Twitter couldn't help but think she looked a little jealous of Lesley and Dean. Dean was on Lindsay's season of The Bachelorette and made it all the way to the hometown dates before she sent him home. Lindsay said during the competition that his and Lesley's kiss looked "forced," and they ended up getting last place.
Some fans couldn't get over how weird it was Lindsay was judging her ex's kiss with another woman. But what's even more awkward is Lesley Murphy liked a bunch of tweets shading Rachel Lindsay.
Yeah... if you go to Lesley's "likes" section of her Twitter, you can see all of the tweets she liked about Lindsay being jealous, hinting she thought the same thing.
Another surefire way to tell Lesley thinks the former Bachelorette is jealous of her is through this tweet where she, uh, well, confirms it.
One Winter Games fan tweeted, "Hahaha why is Rachel such a hater!" Murphy tweeted back at the fan, saying, "Hey Jealousy. Favorite song by The Gin Blossoms ;)" WOOF.
Other tweets about Lindsay that Lesley threw a like said, "Has anyone else noticed that Rachel seems to be jealous towards the guy she dated? Even though she's engaged? She did it with Peter and now Dean. Stop already," "Love it, F Rachel," "Is it me, or did @TheRachLindsay seem a little jealous of @deanie_babies and @LesleyMurph's kiss? #BachelorWinterGames," and "Tell her sis! Rachel sent that boy home, not the other way around!"
Lindsay's "likes" section on Twitter doesn't have any shady receipts, sorry, guys. But she did post on Instagram about appearing on the show with Arie Luyendyk Jr. and JoJo Fletcher.
She posted a selfie with her fellow Bachelor/Bachelorette alums with the caption, "Tonight, two Bachelorettes and a Bachelor walk into the Winter Games to judge a kissing contest...one is the Randy, one is the Paula and take one wild guess as to who is the Simon." Uhhhh, based on the episode, I'm going to say the Simon might've been Lindsay! It wasn't just an awkward night for Lindsay, though. Nope, her fellow judges also had to reunite with their exes on this week's episode. Luyendyk had to reunite with Bibiana Julian, and Fletcher had to reunite with Luke Pell. 'Twas an awkward night for all who were involved, my friends!!
The episode had a bunch of drama outside of this Lesley/Rachel exchange, though. Ben Higgins decided to leave the show because he's still not over his ex-fiancée, Lauren Bushnell. He told Chris Harrison during the episode that he was unhappy, saying, "I'm still emotionally dealing with the loss of that relationship." He added, "If I were to be broken again, I'm not full enough to go through that again." Awwww, Ben! Come here and give me a hug! As he was telling the housemates he was leaving the show, he said, "There are a lot of ghosts that were brought up here for me. A lot of memories." He said in a solo shot that he believes people can find love on Winter Games, he just doesn't think he's in the right headspace for it. He said,
The Bachelor worked for me. I found love and I came here because I truly want to feel those feelings again ... I 100 percent want a relationship. I know I desire love more than I ever have before, but I know it's time for me to recover outside of this to get some... some privacy... to get some time for myself. I think there's potential for actual love here, 100 percent. It just wasn't for me.
Ben Higgins voluntarily left the show, but Ally, Josiah, and Yuki (a fan favorite) were all sent home. Dean and Lesley are still on the show as of now and are seemingly still together, but we'll see what the rest of this Bachelor Winter Games season has in store for these two.