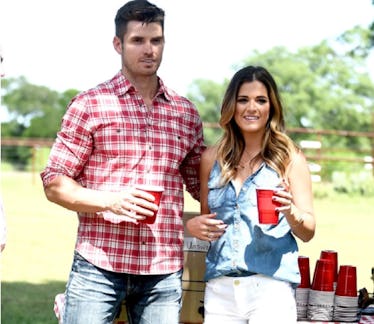 JoJo Fletcher & Luke Pell Reunite On 'Bachelor Winter Games' For A Super Awkward Reason
ABC
Bachelor spinoffs usually don't force contestants to awkwardly interact with their exes, but Episode 3 of The Bachelor Winter Games decided to experiment with that concept. Producers chose to bring back franchise leads Arie Luyendyk Jr., Rachel Lindsay, and JoJo Fletcher to judge a kissing competition between established couples in the house, and the moment was particularly awkward for Winter Games contestant Luke Pell. The almost-Bachelor was shockingly eliminated from JoJo's 2016 Bachelorette season after hometown dates, and tweets about JoJo and Luke on The Bachelor Winter Games proved that fans still aren't quite over the two's heartbreaking goodbye.
Although he was asked out on a date in Episode 1 by Swedish contestant Rebecca, Luke quickly moved on to exploring a connection with Rebecca's fellow countrywoman Stassi. Poor Rebecca didn't even get a moment to explain her feelings about it and was ultimately cut from the competition by the end of Episode 2.
Meanwhile, Luke and Stassi went on a date that ended in the classic Bachelor date standard of relaxing in a hot tub in the middle of the snowy woods. Luke remarked that the scenario was very similar to a one-on-one date he had with JoJo, but that didn't seem to stop the two from getting cozy with each other. However, loyal Bachelorette fans did pick up on the laughable repetition.
Luke's unconventional reunion with JoJo on Winter Games was definitely awkward for both him and Stassi. While JoJo is happy and thriving in her relationship with her Final Rose pick, Jordan Rodgers, any chance of Luke avoiding painful flashbacks to The Bachelorette would likely decrease when forced to kiss his new girlfriend while his old sort-of girlfriend judges his moves. While I don't doubt that he's over his feelings for JoJo, her appearance was sudden and unexpected, which explains why he seemed to act stiff leading up to his turn in the kissing contest.
Twitter agreed with how uncomfortable the scenario initially seemed for former flames JoJo and Luke. Toss in the fact that Stassi is supposedly uncomfortable with PDA, and their performance in the competition sounded like it could easily turn into a total disaster.
However, Luke took the time to convince Stassi that he valued her comfort and trust in him, and I think every girl in America fell a little bit more in love with Luke watching their kiss. Although he recognized beforehand that he did have valid feelings for JoJo back in the day, he made it clear that Stassi was now his main concern.
When offering her critique of the kiss, JoJo also seemed to sense the seriousness of their bond, and noted that Luke took his time with Stassi. Also, how adorable was Stassi thanking JoJo for her critique? While JoJo entering the equation initially seemed concerning, it turns out that Luke and Stassi didn't really have anything to worry about.
In the end, the judges deemed that Luke and Stassi had the second-best kiss of the group behind Kevin and Ashley I. This couple may be quiet and brooding, but they totally have the potential to take their relationship out into the real world. Plus, it seems that they even have JoJo's blessing!
Kudos to JoJo for also being very cool in this situation. As seen with Rachel, she could have been a little aggressive and salty in her judgment of an ex, but it looks like the longer amount of time between her season and Winter Games is a blessing when it comes to her opinion of Luke. She may have broken his heart back then, but I guess it's cool for her to approve of his current squeeze, right?
While it seems that Winter Games "winners" just receive bragging rights, I can now confidently say I'm emotionally invested enough to have opinions about which couple is "victorious." The Bachelor Winter Games returns on Thursday, Feb. 22, with its finale episode beginning at 8 p.m. ET on ABC.