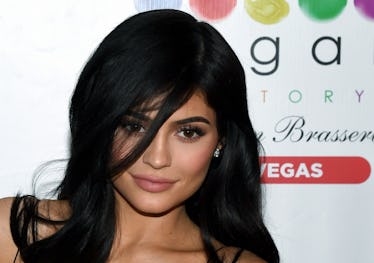 Kylie Jenner Says She's "Back At It" As A New Mom & I'm Here For It
Ethan Miller/Getty Images Entertainment/Getty Images
Kylie Jenner is clearly embracing motherhood to the fullest, and it's everything. The new mom and makeup guru might have been on the secretive side throughout her pregnancy, but judging from her latest social media posts, that's all in the past. Kylie Jenner's Instagram claims she's "back at it," and I've never been so ready.
On March 10 Jenner took to Instagram to announce her triumphant return. In the post, Jenner posed with BFF Jordyn Woods while sporting a sultry halter crop top and lace up bottoms. Woods worked a similar ensemble but with more zipper detail. I think it goes without saying we're all thinking #friendshipgoals. Then, as if we weren't already excited enough, Jenner posted another Instagram, except this time with our favorite celebrity sister squad.
Back to back Instagram posts in one day. Kylie, what did we do to deserve your kindness? We're not worthy.
I don't know about the rest of y'all, but I think it's about damn time Kylie is deciding to step out and enjoy her social life again. With all the media attention the past few months, I think a lot of people tend to forget that she's still a 20 year old girl.
You go Kylie. Do your thing girl.
While she may have secured herself as a pop culture icon and total makeup master, Jenner has taken on a new life role: motherhood.
If you've been hiding under a rock for the past couple of months well, you were probably hanging with Kylie Jenner. After rumors started flying that Jenner might be pregnant way back in September 2017, the youngest Kardashian-Jenner sister left us suffering in total suspense for months without confirming or denying whether she was expecting.
Then, on Feb. 4, Jenner left us all totally shook when she announced on Instagram that she had given birth to her baby girl Stormi on Feb. 1. In addition to the announcement, Jenner explained her MIA status and why she kept quiet about her pregnancy.
She wrote,
I'm sorry for keeping you in the dark through all the assumptions. I understand you're used to me bringing you along on all my journeys. My pregnancy was one I chose not to do in front of the world. I knew for myself I needed to prepare for this role of a lifetime in the most positive, stress free, and healthy way I knew how. There was no gotcha moment, no big paid reveal I had planned. I knew my baby would feel every stress and every emotion so I chose to do it this way for my little life and our happiness. Pregnancy has been the most beautiful, empowering, and life-changing experience I've had in my entire life and I'm actually going to miss it. I appreciate my friends and especially my family for helping me make this special moment as private as we could. My beautiful and healthy baby girl arrived February 1st and I just couldn't wait to share this blessing. I've never felt love and happiness like this I could burst! Thank you for understanding.
She also shared a heartwarming YouTube video which gave us all a look inside her pregnancy journey, featuring familiar faces such as boyfriend Travis Scott, best friend Jordyn Woods, and of course her sisters Kourtney, Kim, Khloé, and Kendall.
Jenner has still been keeping it pretty low-key on social media since her birth announcement, but every so often she'll grace us with a glimpse of Stormi and herself. Clearly they're the ultimate mother-daughter dream team.
So while she's taking motherhood seriously, girls still wanna have fun. Good on Kylie for still living her life, hanging out with her girls, and not letting the media attention keep her down.
Word Kylie.