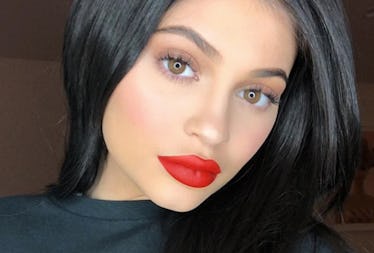 Kylie Jenner's Instagram Has Changed So Much Since Pregnancy Rumors Started
Instagram/Kylie Jenner
Somewhere along the way this Kylie Jenner pregnancy rumor stopped being fun and started being stressful. Fans were first so excited when pregnancy reports first broke in September saying Jenner and her boyfriend, Travis Scott, were expecting. Since then, the public has exhausted itself looking for clues, hints, and details about Jenner's maybe-baby. Kylie Jenner's Instagram before and after her pregnancy rumors started is one of her biggest tells, considering her posts have changed so dramatically.
Think back. It was the summer of 2017 and pregnancy rumors weren't even on our radar. Jenner was at the height of her Instagram game. Her show, Life Of Kylie, was a huge success, and fans felt closer to the reality TV star than ever before. Her Instagram feed was a combination of sexy bikini pics, photoshoots, mysterious selfies, Kylie Cosmetic ads, and pics with her bestie, Jordyn Woods. She was posting ALL OF THE TIME. If a day went by without an Instagram, surely we could catch her on Snapchat with a cute puppy filter and great lighting.
And then... boom. There was the headline. "Kylie Jenner, 20, 'Surprised but So Happy' to Be Expecting Baby Girl with Travis Scott." People was the first to break the news, and it was almost as if you could hear the whole world take a giant, collective gasp. We (and Jenner's Instagram) would never be the same.
Almost immediately, her feed changed.
1. She started posting old photos.
Suspiciously, fans started to notice repeat photos began to pop up from old photoshoots or events. Pictures we've already seen or events we knew happened a long time ago started to flood her feed. It was... weird.
2. She only posted selfies from the waist up.
This was the most noticeable change. For someone who is usually so comfortable and happy to show off her awesome body, Jenner took a hard left into waist-up selfies. She also began wearing black T-shirts only, which is a far cry from the bathing suits and sports bras fans were so accustomed to.
3. She upped the product placement ads.
Sure, Jenner has always promoted her cosmetics line, but there was definitely a noticeable uptick in foundation and eyeshadow pics. She also padded her feed with pictures with no people in them at all, like the ones of her Christmas tree or her Kylie truck.
4. The frequency of posts slowed down...
By Christmas, Jenner's feed was creeping to a crawl while the rest of her family was going insane posting their famous 25 Days of Christmas series. On Christmas Day, Jenner shared this picture of herself on LOVE magazine's cover with the simple caption,
Merry Christmas! Thank you @thelovemagazine @kegrand for this special cover shot by @kendalljenner & interview by @krisjenner #love19
5. ...And then stopped entirely.
And that was the last we've seen of her. It's now been over an entire month since Jenner's posted on Instagram, and we can only assume that's because she's somewhere being really, really pregnant.
One source told People that going into hibernation mode has been Jenner's plan all along. The insider claimed,
Kylie wants to disappear and be out of the spotlight and focus on her health and happiness.
They added,
Kylie isn't going to publicly address her pregnancy until she gives birth. She's not doing any public appearances and just wanted to take six months off.
Based on her Instagram feed, this theory seems to check out.
Kylie, wherever you are. We miss you. We love you. And we definitely love your baby, if, like, you have one.
Check out the entire Gen Why series and other videos on Facebook and the Bustle app across Apple TV, Roku, and Amazon Fire TV.