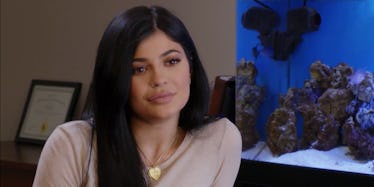 Kylie Jenner Gets Emotional In Therapy Session On 'Life Of Kylie': "I Lost A Lot Of Myself"
E!
Kylie Jenner is showing the world a whole different side of herself in her new reality series Life of Kylie. The premiere of the Kylie-centric Keeping Up With the Kardashians spinoff saw the youngest Kardashian-Jenner attending her first prom with a stranger, coaching her bestie Jordyn through a first date, and rolling around a beach at midnight in heelies. But the most pivotal and emotional moment in the premiere was Kylie Jenner's therapy session.
At the very beginning of the series, Kylie notes it would be a good idea for her to try therapy for the first time, and at the end of the two-episode premiere, we get to see how her revealing first session goes. Sitting down with a therapist, Kylie opens up about how fame has changed her, and admits she has to put up a false front on social media and in public in order to protect herself from breaking down.
Explaining what seems to be the overarching theme of the whole Life of Kylie series, Kylie says there are two people she has to be: the calm and cool fashionista she projects for her millions of fans, and the real girl who just wants to wear sweatpants and goof off with her friends. Towards the end of the therapy session, Kylie starts to tear up, saying she lost a lot of herself due to her massive fame. Specifically, she remembers how she used to post goofy, hyperactive videos of herself making jokes, but now she mostly remains serious and more calm on social media.
The therapist helps Kylie come to the realization she created this false persona in order to protect herself from online trolls. It's no secret that as many people love Kylie, there are equally (sometimes more) vocal detractors who often post negative things about her. Kylie and her therapist conclude the reality star puts this false identity online so if it gets attacked, the real Kylie can feel safe and that her actual personality wasn't ridiculed.
Kylie and BFF Jordyn end the episode pledging to only do things they enjoy this year. So don't be surprised if Kylie starts to loosen up a bit on her social media.